No obvious signs - The war is not over // Verzio X ELTE
Wednesday, 7 November 2018.
Furthermore, we start to scrutinise the woman soldier, who has a major rank in the Ukrainian army. Oksana Yakobava is our survivor and protagonist, and her war experience is revealing to us that actually there are two wars going on. The first one is the violent, physical war and the second one is an aftermath of the tragedy. Oksana used to be a major in the Ukrainian army, reporting the casualties. Her duty was to check the dead soldiers' identity, and to identify the motives of their death. Besides that, she had to write a detailed report of their deformed body. It was severe and painful for her to see the bullets on the bodies of young Ukrainian boys. Moreover, in some cases, bodies were undefinable, and duty was identifying these people and contact with their families. The battle always leaves a natural trail of tragic moments to the human mind, and some people could not handle these moments.
After all of these scenes, we meet Oksana in the clinic and we see that she is getting psychotherapy. Her mind and her soul are collapsed, and she is diagnosed as a 'Post-Traumatic Stress Disorder' patient. She lives with all past horrors in her mind, becoming ,a veteran maybe not physically but mentally. As he puts it: "To survive the war is way more difficult than to die in action". Oksana's treatment is not painless, and the rehabilitation centre is just a temporary station on her journey, as the images and memories in her traumatized mind chase her. Psychotherapy process continues with physical activities such as swimming, bath massage, walking and relaxing in the garden. However, the main point is that she is trying to tell herself she is not crazy and the war experience created all of this. Although she is not the only one who has PTSD: there are more soldiers in the field with the same condition, but she is one of the bravest, who embraced the trauma. She indicates that she accepted to be documented to tell for other people what is the price of going military and how psychology can help in healing after a traumatic situation. Moreover, the director Alina Gorlova's efforts to show this female soldier deserves credit because of her natural, honest portrait. Therapist's office scene and bath rehabilitation scene show an essential personal traumatic struggle.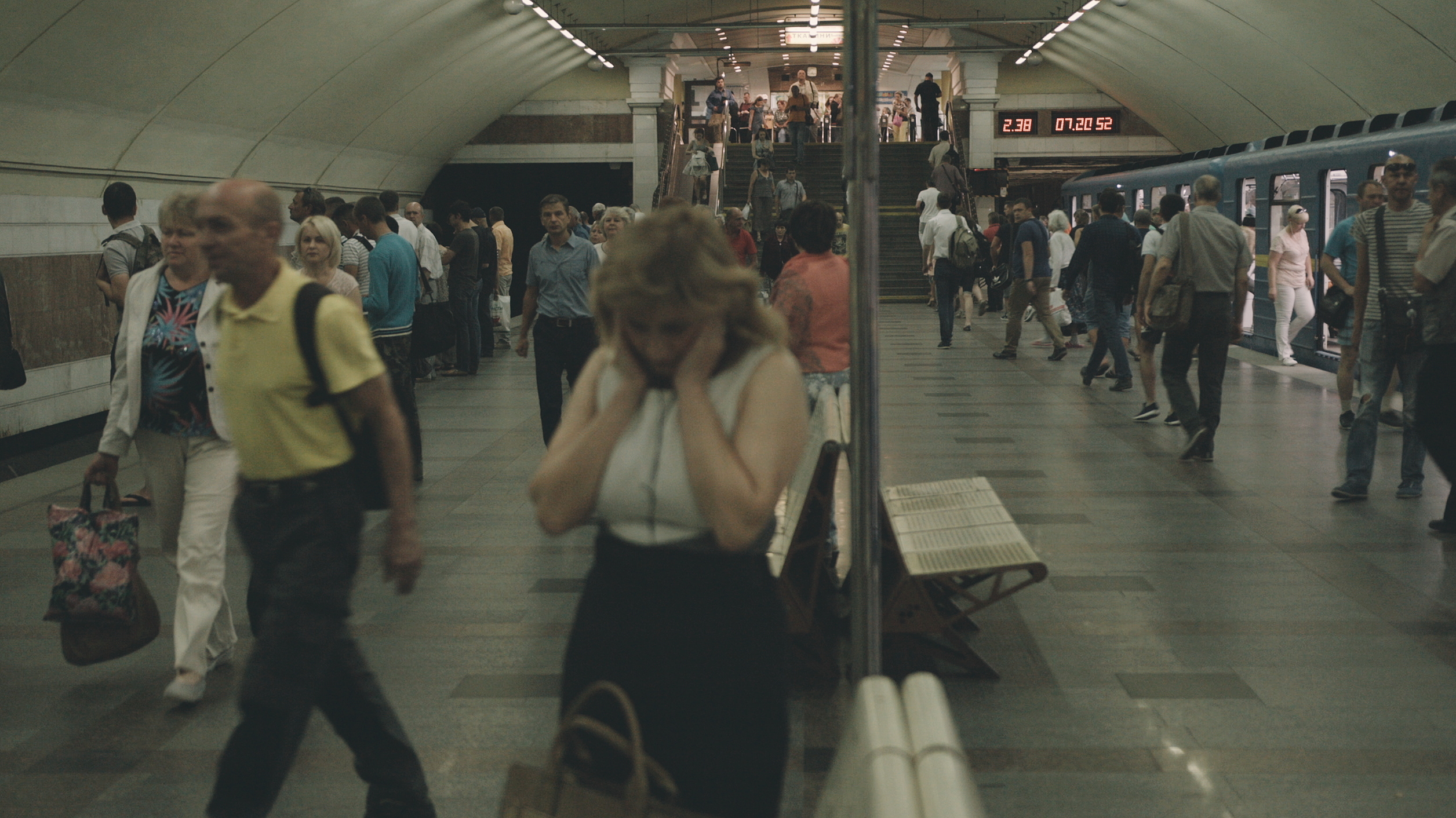 photo: No obvious sign
Leaving the rehabilitation centre, Oksana returns to her house, and now the reality becomes a burden. The reason is, she has a new struggle while her reintegration into society. Once returning to her home, Oksana shows her death reports on her laptop. After that, she tells about investigation process and exemplifies that it is not a typical daily report, but it is a report about lost persons. Moreover, Oksana starts a spiritual home therapy with a priest. The priest exercises a ritual with specific gongs and asks for silence. As it can be seen, the rehabilitation centre was not enough for civic life, and that is the reason she looked for extra help. After all, she had to wear a military suit once more, and she had to return once more to the frontier because it was time to resign from the army. When she went to the train station, her female colleague came to take her, and they met again, but she started to become too emotional again and hardly held the hand of her soldier colleague. She arrives at her army base for resignation, but it takes one month to accept her resignation. Finally she talked with one of her another female military colleague as the last time, and she told her that she is free now, so she can talk and express herself independently.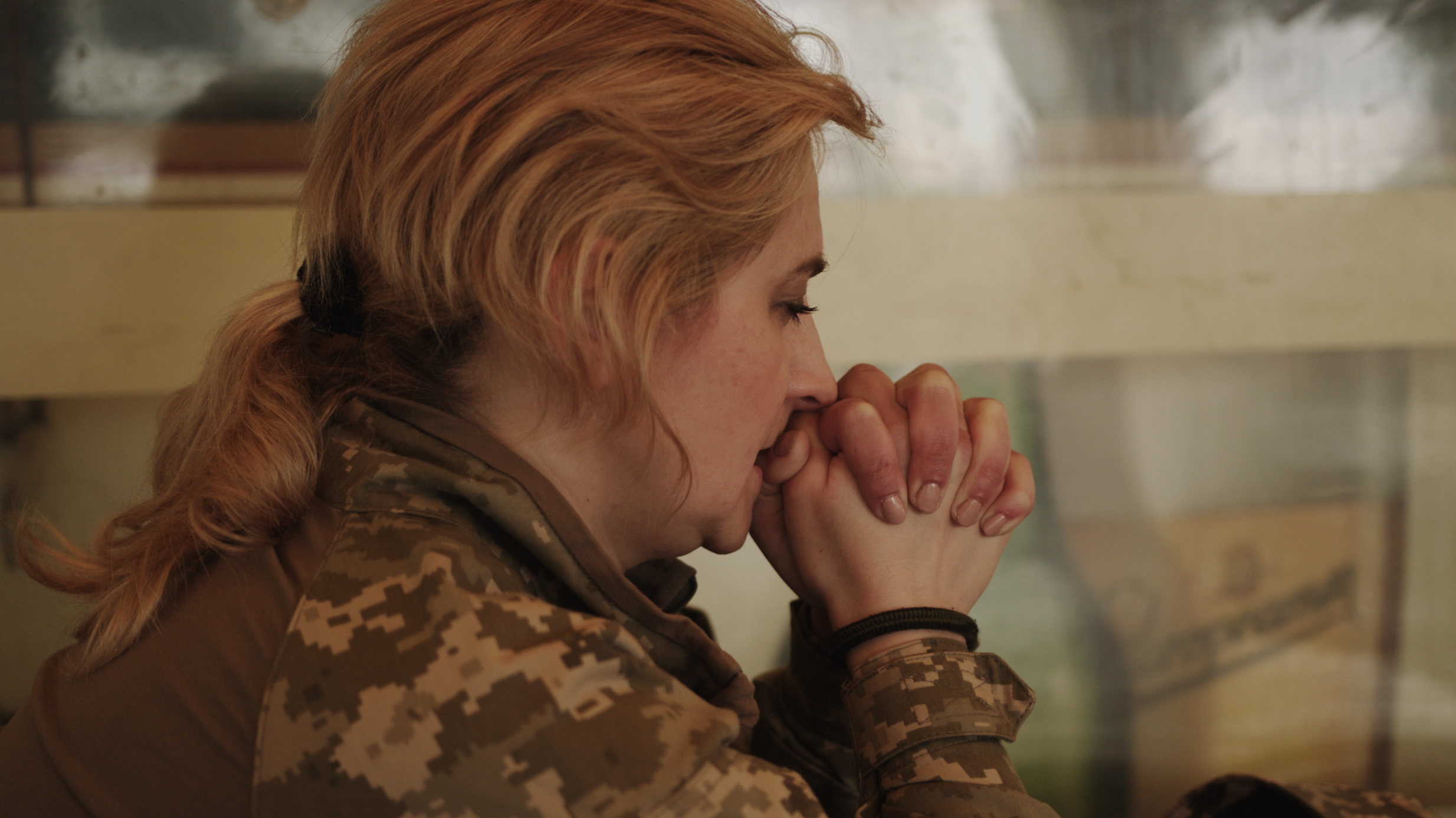 photo: No obvious signs
Oksana's civic life started and passed one month after resignation from the army, but traits of war tragedy are still in her mind. When our survivor wants to go out, she had to face new fears and anxieties. In the metro scene we can see her nervous body gestures, as she has 'enochlophobia' which triggered after Post-Traumatic Stress Disorder. She starts to struggle with these circumstances by listening to psalm music. Director Alina Gorlova harmonises loud metro sound with Oksana's telephone voice (which is recorded psalm), which that creates an emotion of fear; it also draws us into this feeling. Afterwards, Oksana goes to her new workplace, the ministry of finance, where she tries to get used with her new desk job. At the latter end, in the elevator scene, we can hear her voiceover, saying: "I am not afraid to die anymore. At all. It even became interesting." At this moment we realise, that traumatic emotions still are with her.
Alihan Günes
student of ELTE Department of Film Studies