Rosie is the series producer for BBC Arabic Digital Investigative Documentaries. She is also the founder of Mediadante; an award-winning independent production company making films about the Middle East for a global audience.
How did you encounter this story? If I know well, you are based in Qatar.
It's a small community over there, the producer, Ramzy Haddad I worked with had been living there most of his life, I did for nine years, and Adam Sobel, the director for four years, as well. We were practically living there full time so we could be held accountable for our actions. We didn't know how long we were going to get the access, but in the end we spent about a year and a half with the same group of men, in and out of the camp, and in the construction sites and on the football field. And what it gave us was the ability to see the story of the workers, but through the eyes of the workers themselves. So we tried as much as possible to try and let go of our current affairs background and allow them to tell us what mattered to them.
Was it because of the World Cup started to gain attraction in Qatar?
When I was at Al-Jazeera, I made about 4-5 news pieces on the situation of migrant and domestic workers in Qatar. When I became independent, I decided I would tell those stories but I would never have my name attached to it, so I would made them for the BBC Channel 4 or The Guardian. We knew about these issues for a long time, and it was quite hard to get anyone interested in them until the World Cup came. So a lot of people would say we should all boycott the World Cup, but without it no one would care about the workers in those regions. When that tournament came about and it gave us the option to access the workers in a more meaningful way then we used to, it gave us the option to do something more.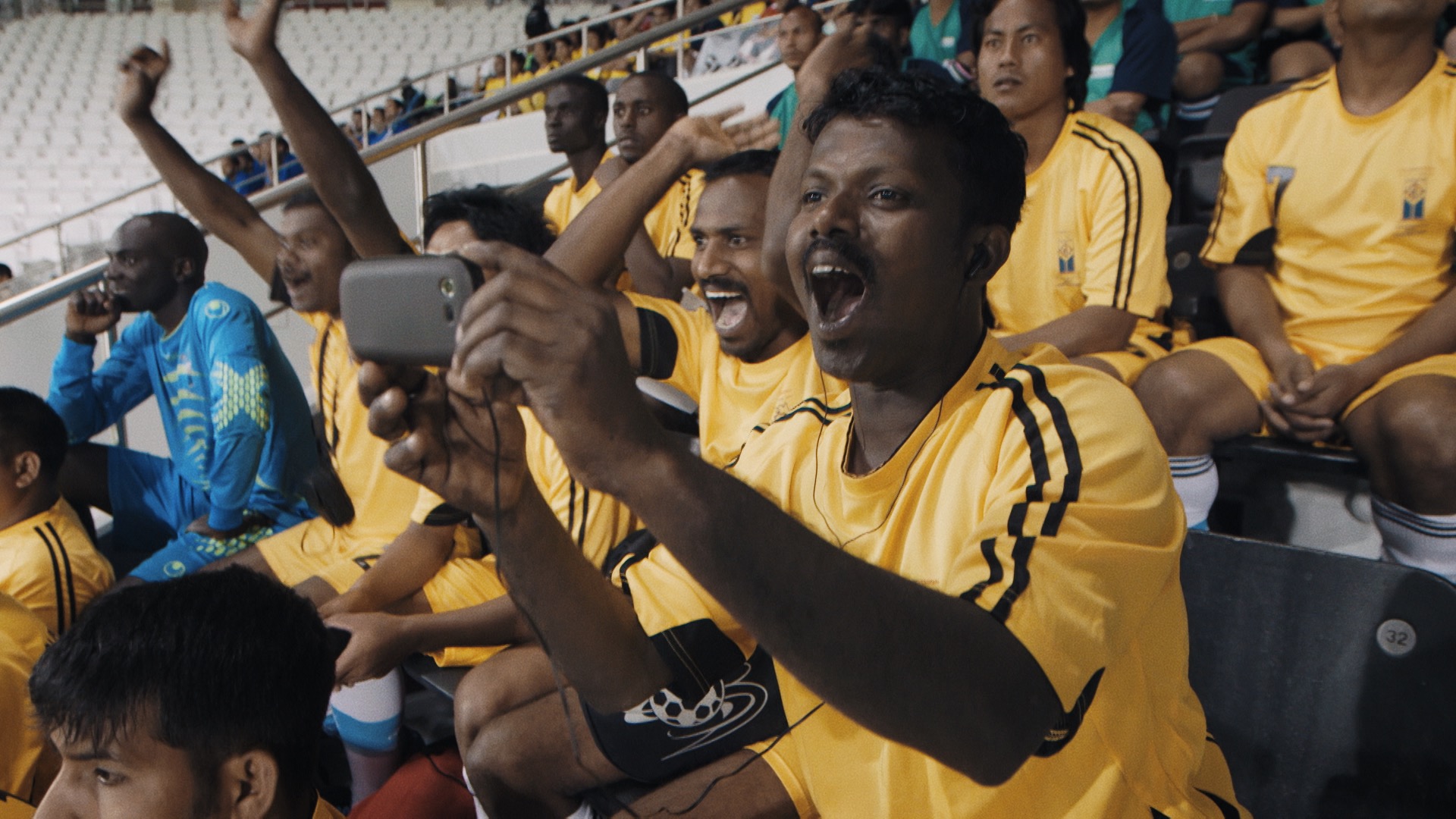 photo: The Workers Cup
How did you feel as of being resident in the country, and also being behind the camera?
We wouldn't have been able to do this story if we were Qatari, because it would have just simply had too much impact on our families lives, and we wouldn't have been able to do this story if we weren't Western expats. It would have been impossible. This year some Nepali journalists came over to try and cover this story of the workers, and they were thrown out of the country, and no one reported on it. It is a very strange position to be in. But the only reason we were able to gain access to this tournament is because there are Qatari people, who are in leadership positions and want to see change. They knew what our intentions, so it was a quiet nod from them. They need help with their mission to bring about change.
Did you receive any pushback, either within the companies that you were profiling, or from the Qatari authorities?
The Supreme Committee for Delivery and Legacy are now responsible for delivering the World Cup. So it was them we ultimately needed to get permission from. We always wanted them, as well as the workers, to feel as much as possible that this was a film that they were deeply involved in, so we kept them informed at all times. At the same time I think that both The Supreme Committee and GCC (Gulf Cooperation Council) were extremely touched. They were really shocked at how much kind of emotional access we had gained to the workers, because it took us months to get them to trust us, and that was a big thing when they started to really let their barriers down and talk about things that weren't just about football. Both of them felt that they hadn't got to know - even though they were in charge of workers and regularly in interaction with them - a single one as well as they did by watching this film, and that's been true of all of the Qatari organisations and people that I've shown it to. Sometimes they have hundreds of thousands of people working for them, and this was the first time they could remember anyone's name.
You said it took a while to gain the trust of the people who are profiled in the film, why would they want their stories to be told or what did they think would be achieved by being a part of the project?
The workers actually really enjoyed the filming process. I think the overwhelming sense you get when you're watching the film is how monotonous it was, how repetitive their lives were. It was very difficult to find occasions of action, because everybody was doing routine stuff..You're just on the site, doing digging all day, or cleaning, brushing. So I think the team was a distraction to the daily mundane behaviour. And in terms of GCC and the Supreme Committee, I think that there were many people within the Supreme Committee, many of them in prominent positions, who wanted to see change and are frustrated that people within their own community don't really understand the lives of the workers, so we tried to make a film that could help perhaps that language barrier, that empathy barrier, break it down just a little bit.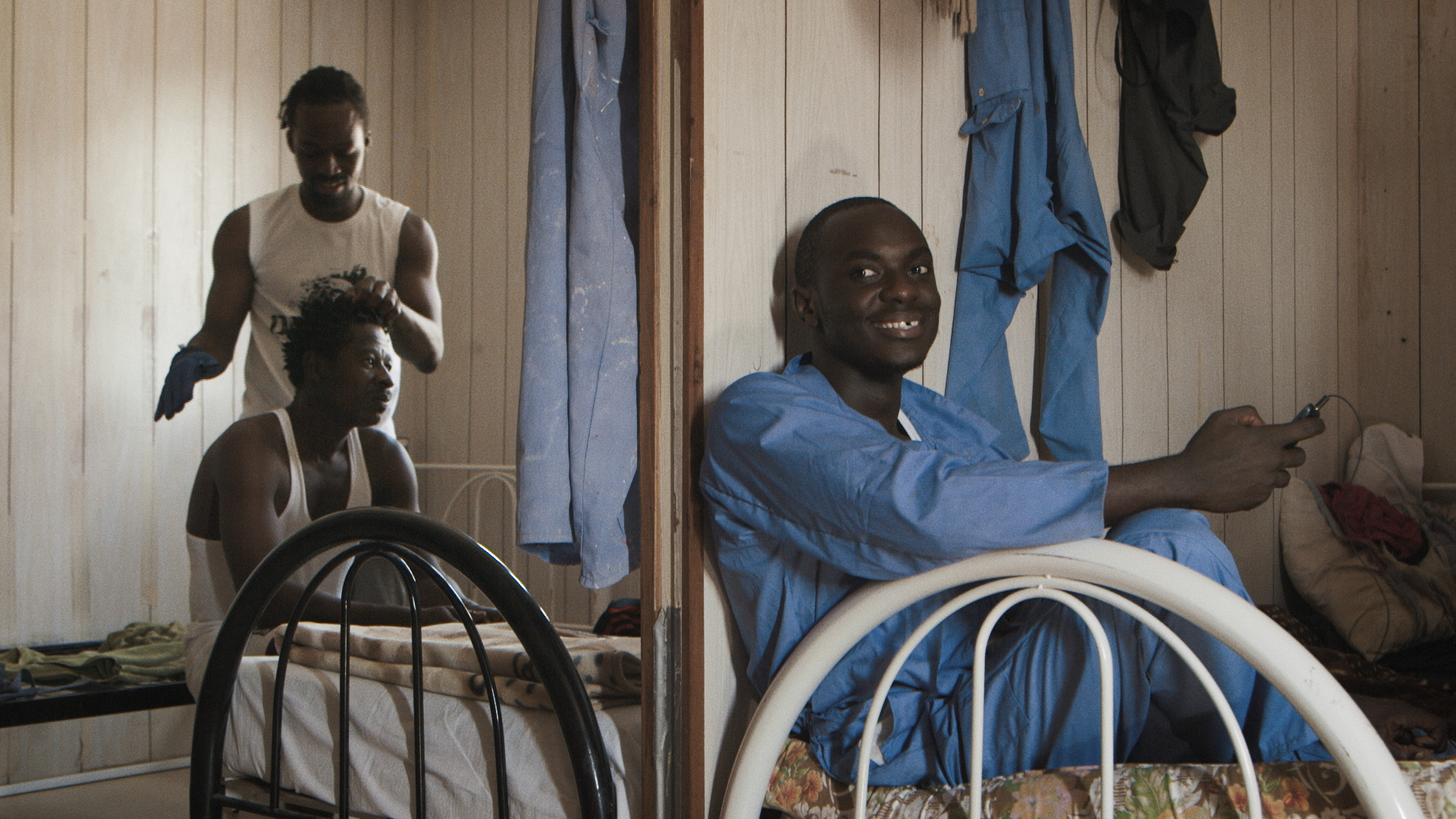 photo: The Workers Cup
What do you think change means to them?
Well, I think that change is coming slowly, and I think that it's actually going to take about a generation. I think there are practicalities when those people come into positions of leadership, which they will at a frighteningly early age in Qatar, because there is very little numbers in the population, so they get to a lot of responsibility very early. The more that young people get to understand who these men are, and get to understand that they are just like them, they just happen to be born in a different place - the greater the chances are that the next generation will start making choices that will make it better. The laws themselves are now getting better and better in Qatar, it's just the implementation that is the problem. And that requires will, you have to hope that things are going to change in a positive direction.
Who is the ideal audience for this film?
It was a choice early on that we wanted to make it accessible to people in the region, that means we couldn't commit to broadcasters or online platforms that might censor it as a request from the government, so we had to be careful about where it went to. We've been really cautious to roll it out extremely slowly, and picking the places where we have been, and making ourselves really available for Q&A's, because people always have a lot of questions on the back of the film. And the international audience has responded amazingly, and we never kind of, it sounds arrogant, but we never doubted that, because I feel like it's an accessible film. For many reasons, because of the inclusion of football, but also just the humanity of the whole film.
There are also core audiences that can make change, such as the business communities; migrant-worker-sending countries and migrant-worker-receiving countries; people in leadership have responded extremely well, and politicians as well. So that has been really exciting to see.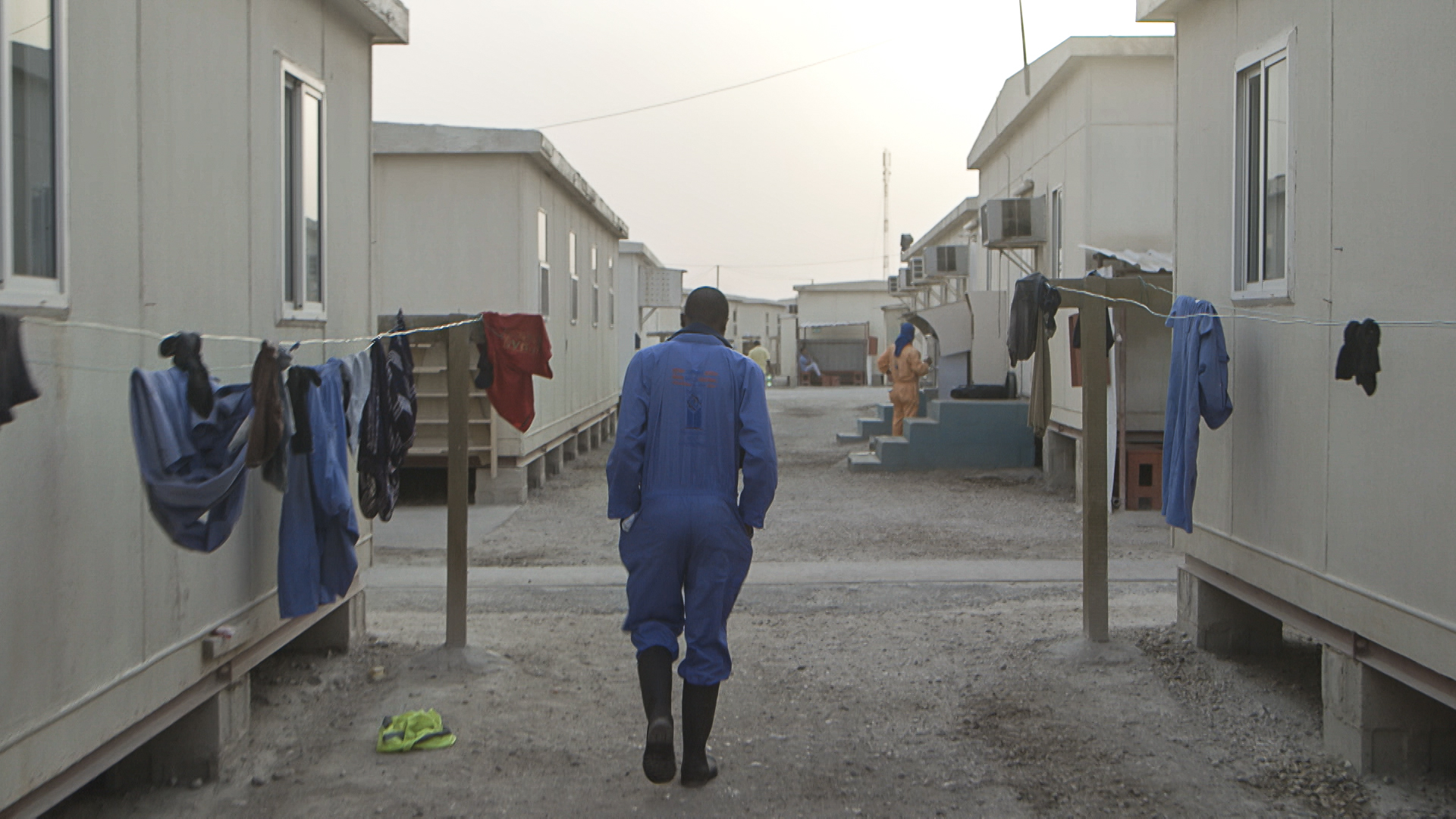 photo: The Workers Cup
Are there any particular bits of the film that resonated with you? I'm wondering from your perspective what are the stories or the individuals, who've really stayed in your mind?
For me they all feel like they're brothers, even though I spent hardly no time with them compared to the rest of the team, because as a woman I couldn't be in the film crew. So my job was much more making that we continued with the access we had, the funding that we needed, and all of those types of things. But I'm always interested to see where the men are, and we try our best through fundraising opportunities to get some money to them for useful things like training they want to do, or emergencies they're having in their lives, and they keep contact with us about that so that they don't have to go to a money lender. And we really don't have a lot of money, but the little bit we have is helpful to them. And the reason why we made the film was because of the scene around the discussion around 'what does freedom mean to you?' When that happened, we realised that we needed to do something far bigger.
Are they still playing? Is the Workers Cup is still taking place?
The Workers Cup is still taking place every year, and it's a bit better now as well. But unfortunately, none of them are still playing because of various reasons.
What do you think is the overriding feeling of the film? Is it optimistic, accusatory, bleak, or all of the above?
I think it's very human. I think you can see men that are very much like you or me, and they want the same things as we all do. And I just hope that people can see it like that, on a level. It's not about victims, it's not about blame, the situation hasn't been created by Qatar, it's not caused by Qatar. The GCC is a UK owned company and there was a worker killed two years ago working for GCC. So it's not a Qatar problem, it's a global problem, and that's what I hope people will understand.
Jennie King

cover photo: Varga Benedek