International Competition
Sound:
Andreas Lindberg Svensson
Håkon Lammetun
Distribution info:
MetFilm Sales Ella Pham ella@metfilm.co.uk
After five years in the foster system, eighteen-year-old Emilie returns to her family home to rebuild a fractured relationship with her mother and younger half-siblings. She wants to heal the trauma that haunts her and move towards a self-determined future. To do that, she must gather the courage to tell her half-siblings why their father was imprisoned. Told with emotional insight and dedication to Emilie's experience, this is the story of an extraordinarily courageous young woman finding the voice that was long denied her.
Ask your question from the Director!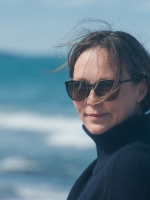 Tone Grøttjord-Glenne has worked on more than 20 documentary films as a director and a producer. She established Sant & Usant Documentary Film in 2005, and led it to become one of the strongest production houses in Norway, one with a clear international vision for its films.
Selected filmography:
2021 - Sisters on Track
2021 - Writing With Fire (co-producer)
2020 - Gunda (executive producer)