Parrhesia: The Moment of Truth
Cinematographer:
Tanya Haurylchyk
Jesse Mazuch
Production info:
Living Pictures Production
Distribution info:
Rise and Shine Anja Dziersk anja.dziersk@riseandshine-berlin.de http://www.riseandshine-berlin.de
Awards:
Millenium Docs Against Gravity 2021 Amnesty International Poland Special Mention
Dokufest 2021 Human Rights Award Nominee
Three actors from an underground theatre in Minsk are caught up in the wake of mass protests during the Belarussian presidential elections. They protest for freedom of speech and a long-awaited change of power, but are brutally shut down by the regime's security apparatus. The country is on the brink of civil war. Courage accompanies the brave and peaceful resistance of Maryna, Pavel and Denis, before and during the protests, and offers personal and deep insight into Belarus today
Ask your question from the Director!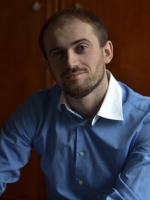 Aliaksei Paluyan was born 1989 in Belarus. In 2012 he moved to Germany and studied film and television directing at the Kunsthochschule Kassel (Academy for the Arts). In 2019, his short fiction drama Lake of Happiness, a German-Belarusian-Spainish co-production, premiered in Clermont-Ferrand, won numerous awards at international festivals, was a candidate for European Short Film Award at the 33rd European Film Awards in 2020 and also longlisted for the Oscars 2021. Courage is his documentary film debut.
Selected filmography:
2019 - Lake of Happiness (fiction short)
2017 - Country of Women (documentary short)