Croatia, Germany, Romania
Co-producer:
Stefan Kloos
Florin Iepan
Morana Komljenović
Editor:
Nebojša Slijepčević
Iva Kraljević
Writer:
Nebojša Slijepčević
Vanja Jambrović
Awards:
ZagrebDox 2013 Audience Award
Gangster of Love is a documentary tragicomedy highlighting serious social issues. Twenty-five years ago, Nedjeljko Babić left his job as a carpenter to take up his calling as a matchmaker. His skills and nickname, Gangster, quickly earned him renown. When Maja asked Gangster for help finding a new husband, it seemed like a simple task at first. But Maja is a single mother and a foreigner, making it mission impossible for Gangster.
Ask your question from the Director!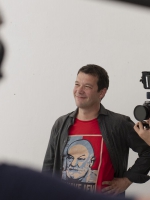 Nebojša Slijepčević has directed numerous creative documentaries (Srbenka, Gangster of Love, Something about Life, Real Man's Film, In 4 Years, Of Cows and People). His films have been awarded at many international festivals, including four awards from the Sarajevo Film Festival. His latest documentary feature, Srbenka, was shortlisted for the European Film Awards. In 2019, Nebojsa won the Vladimir Nazor Award, an annual award given by the Croatian Ministry of Culture for the highest achievements in film. Nebojsa is a lecturer at the Academy of Dramatic Arts, in Zagreb.
Selected filmography:
2018- Srbenka
2016 - Something About Life (documentary short)
2016 - Justice (documentary short)