Instructions for Survival
Instructions for Survival
Georgian, Russian, English
International Competition
Producer:
Yana Ugrekhelidze
Revaz Meliqishvili
Music:
Lennart Saathoff
Mikhail Khimakov
Production info:
FORTIS FEM FILM Berger, Kruglova & Ugrekhelidze GbR
Distribution info:
Filmotor Michaela Cajkova michaela@filmotor.com
Awards:
Berlinale 2021 Compass-Perspektive Award & Teddy Jury Award
Alexandre is a transgender person who has lived with his girlfriend, Marie, for more than seven years. Because his passport says "female", Alexandre cannot find a job and has to lead a secret life. Marie and Alexandre decide to leave their homeland due to violence and discrimination based on sexual orientation and gender identity. In order to afford this exodus, Marie signs a contract to become a surrogate mother.
Ask your question from the Director!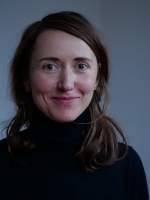 Yana Ugrekhelidze was born in Tbilisi, Georgia, in 1984. After graduating with a degree in translation and linguistics in Georgia, she completed a BA in communication design at the Peter Behrens School of Arts in Düsseldorf, and a diploma in film and animation at the Academy of Media Arts Cologne. Her first animated film, Summer Story, premiered at the 2017 International Short Film Festival Oberhausen and was a semi-finalist in the Student Academy Awards. Her graduation film Armed Lullaby premiered at the 69th Berlinale in the Generation Section. Instructions for Survival is Yana's debut film.