Distribution info:
House of Film http://www.houseoffilm.com/
Digital nomads is a new social category of people who do online work not tied to a physical location. Who are they and why do they choose this lifestyle? Are they just not ready to grow up and take responsibility, or are they brave and talented ones who value independence and freedom? How do they differ from the travel-lovers of the previous generations? These were the first questions that set Kata Oláh to explore this lifestyle as her daughter decided to be a digital nomad herself.
Ask your question from the Director!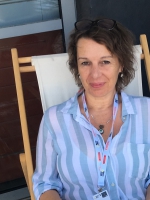 Kata Oláh is a producer and director. Since shifting her focus to directing a few years earlier, her films have received several national and international awards. Her first feature-length documentary film, The Bar Mitzvah Boys, was nominated to compete in the PRIX EUROPA 2018. In 2019, the Hungarian Film Academy awarded her the Best Editor prize for her TV documentary, Couture Behind the Iron Curtain. Her short documentary, Mignon, received the Best Short Documentary award at the Budapest International Documentary Festival. Her independent production Zuniverzum, a short fiction shot during the pandemic, has been purchased for HBO Go. My Digital Nomad is her latest documentary.
Selected filmography:
2020 - Zuniverzum (fiction short)
2019 - Mignon (documentary short)
2017 - A Bármicvó fiúk (The Bar Mitzvah Boys)
2016 - Beágyazott emlékeink (Mother's Imprint)
2015 - Helló, Szia, Csókolom
2014 - Hangjegyesek
2010 - Romazsaruk (Roma Cops)