Producer:
Aneta Zagórska
Marta Bożyk
Marcin Lech
Cinematographer:
Marek Gajczak
Aleksandra Idzikowska
Marcin Zięba
Sound:
Damian Roman
Paweł Baran
Studio Nonagram
Production info:
Krakow Film Klaster, Akademia Sztuk Pięknych im.Jana Matejki w Krakowie
Distribution info:
Krakow Film Klaster Aneta Zagórska aneta.zagorska@film.krakow.pl
People have irreversibly changed the world they share with millions of other species. Nature Is My Homeland is not a wildlife documentary, nor an ecological disaster film made to scare the viewer. It is a reflection on the question of whether or not humankind can save its home, the Earth. The film's protagonists are scientists, artists and enthusiasts who are related to nature on very different levels, giving us new perspectives on at our relationship with nature in this critical time. What can we learn from plants and animals?
Ask your question from the Director!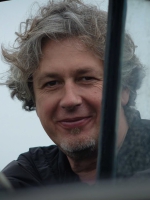 Born in 1966, Marek Gajczak is a cinematographer and film director. He is a graduate of the Cinematography Department at the Film School in Łódź. He also completed a Masterclass for DOP, a cinematographic workshop in Budapest. In 2006 he debuted as a director and screenwriter with the feature film Under the Surface. He has since collaborated with TVN and the Polish Television. Having completed several dozen documentaries, he currently works as a photographer and a documentary film director.
Selected filmography:
2019 - Dragon Dreaming. The Great Turning (documentary short)