Writer:
María Paz González
Carolina Moscoso
Distribution info:
Paulina Portela paulina@companiadecine.com Compañía de Cine
Awards:
FID Marseille 2020 Grand Prix of the International Competition for Best Film
Eight years after having been raped at a beach near Santiago, Chile, a young filmmaker is still haunted by the memories of that night. She compiles dozens of raw and intimate video-diary entries to tell the story of the assault, the revictimizing judicial processes, and the friendship that helps her heal. She investigates the question: What is a rape, really, and when does it end?
Ask your question from the Director!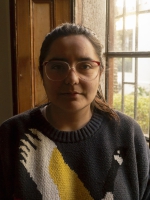 Carolina Moscoso Briceño graduated as director and editor of Film and Television at the University of Chile, and she also holds a Master's Degree in Creative Documentary from Universitat Pompeu Fabra Barcelona. She has worked as director and editor in several video clips, animations, audiovisual and theatre projects. Night Shot is her first documentary film. She is currently developing her next film Nunca ser policía and is working on the editing of Históricas, directed by Javiera Court and Grace Lazcano.