Parrhesia: The Moment of Truth
Writer:
Nicholas Bruckman
Amanda Roddy
Cinematographer:
Ryder Haske
Alex Pollini
Erin Collett
Nicholas Bruckman
Amanda Roddy
Michael Dwyer
Distribution info:
The Film Collaborative Jeffrey Winter festivals@thefilmcollaborative.org https://www.thefilmcollaborative.org
Awards:
SXSW 2021 Audience Award
Pyeongchang International Peace FF 2021 Jury Prize in the International Feature Competition
When 32-year-old activist and father Ady Barkan is diagnosed with amyotrophic lateral sclerosis (ALS) and given just a few years to live, he finds himself struggling to connect with his young son, whose presence reminds him of the future he will miss. But after a chance confrontation on an airplane with Senator Jeff Flake goes viral, Ady decides to embark on a tour of America, using his remaining strength and time to fight for healthcare justice. Capitalizing on the momentum of his new public platform, Ady launches the "Be a Hero" campaign to replace politicians who voted to take away his healthcare. A behind-the-scenes look into what it takes to build a movement, and the power of personal storytelling as a tool for change.
Ask your question from the Director!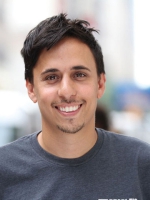 Nicholas Bruckman produced the Sundance Award-winning film Valley Of Saints, which was released on Netflix. He previously directed the feature documentary La Americana, which broadcast on National Geography and PBS. He is the founder of People's Television, a creative studio that produces independent films and commercial content for global brands.