Iran, Norway, Switzerland
Producer:
Fabien Greenberg
Bård Kjøge Rønning
Co-producer:
Majid Barzegar
Firouzeh Khosrovani
Joël Jent
Janne Hjeltnes
Editor:
Farahnaz Sharifi
Rainer Maria Trinkler
Sound:
Ensieh Maliki
Hugo Ekornes
Distribution info:
Taskovski Films Marija Knežević Shajahan festivals@taskovskifilms.com https://www.taskovskifilms.com
Awards:
IDFA 2020 Award for Best Feature-Length Documentary & Best Creative Use of Archive
IndieLisboa International Independent FF 2021 Amnesty International Award
MakeDox Creative Documentary FF 2021 Best Film
Firouzeh Khosrovani's deeply personal and creatively constructed account of her parents' marriage, told with the help of a rich archive of letters and photographs, also gives insight into the last half a century in Iran's societal and political history. Her parents spend the early years of their marriage in Switzerland, where her father works as a radiographer. Her mother, however, is more conservative and yearns to return to Iran, which becomes more complicated as the Muslim activism she is involved in begins to undermine the Shah's regime. A compelling tapestry of a difficult marriage and a tumultuous period in modern history.
Ask your question from the Director!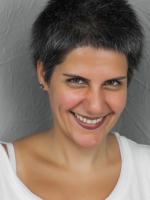 Born in Tehran, Firouzeh Khosrovani settled in Italy to pursue her artistic studies at the Accademia di Belle Arti di Brera. After graduating in 2002 she returned to Iran and acquired her Master's degree in Journalism. She now lives between Tehran and Rome. Her debut film, Life Train (2004), is a documentary on the 'play' therapy provided for the traumatized children of the earthquake in Bam. In 2007, she directed Rough Cut, a film about mutilated plastic mannequins in the shop windows of Tehran, which won thirteen international film festival awards. Her last work, Fest of Duty, follows two adolescent girls as they transition into adulthood, eight years after their official Fest of Duty. The film won the OXFAM award at IDFA in 2014.
Selected filmography:
2014 - Fest of Duty
2014 - Herfeh: Mostanadsaz
2012 - L'archivio a oriente