Tales from the Prison Cell
Co-producer:
Morana Ikić Komljenović
Irena Taskovski
András Juhász
Editor:
László Hargittai
Anna Vághy
Animation:
Anna Katalin Lovrity
Petra Lilla Marjai
Mikul Mácsai
Distribution info:
Taskovski Films Marija Knežević Shajahan festivals@taskovskifilms.com https://www.taskovskifilms.com
Tales from the Prison Cell explores the relationship between fathers in prison and their children at home. Following three incarcerated fathers, we get insight into their daily lives, and witness the changing relationship between the inmates and their families. As a way of keeping contact, the inmates write fairy tales for their kids which we then make into films with the children playing the lead roles. The stories convey messages that the fathers have come to see as basic truths during the course of their own lives and believe are important to pass on. Within these stories, in the freedom created by fiction, father and child can be united once again.
Ask your question from the Director!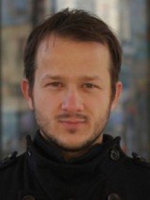 Ábel Visky was born in 1987, in Bákó, Romania. After graduating in photography, film and media studies at Sapientia Hungarian University of Transylvania in Cluj-Napoca, he studied film directing with Ildikó Egyedi at the University of Theatre and Film Arts in Budapest. Both his feature film (Romanian Sunrise) and documentary (Zsolt and Kriszta) have brought him success.
Selected filmography:
2016 – Semmi bogár (rövidfilm)
2015 – Rominian Sunrise (rövidfilm)
2012 – Kriszta és Zsolt