Student & Debut Competition
Co-producer:
Soňa Komová
Radim Procházka
Writer:
Jakub Julény
Pavel Smejkal
Cinematographer:
Peter Važan
Michal Koštenský
Juraj Mravec
Distribution info:
HITCHHIKER Cinema Barbara Janišová Feglová boruska@hitchhikercinema.sk
Their desire for freedom led a group of Czechoslovakians to join an underground movement. After many years, they remain unable to shake the suspicion that one among them cooperated with the state secret police. Throughout their story drifts the memory of their tragically-departed guru, Marcel Strýko. In an effort to come to terms with the past, an old companion from Prague organizes a revival concert in a Gothic cathedral. Will this help the members reach a truce?
Ask your question from the Director!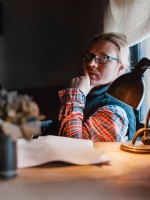 Jakub Julény graduated from the Academy of Performing Arts in Bratislava, Slovakia, in 2011, having specialized in Documentary Film Direction, under Professor Dušan Hanák. He has directed the short films HOUSE - Memories of Martin Porubjak and In King Svätopluk's Shadow. The Commune is his first feature-length film.