Producer:
Ina Fichman
Luc Martin-Gousset
Writer:
Shannon Walsh
Harold Crooks
Julien Goetz
Distribution info:
Dogwoof Luke Brawley luke@dogwoof.com https://dogwoof.com
From delivering food and driving ride shares, to tagging images for AI, millions of people around the world are finding task-by-task work online. The five trillion dollar gig economy is growing globally, and yet the stories of the workers behind this tech revolution are mostly neglected. Lured by the promise of flexible work hours, independence, and control over their time and money, workers find themselves in often dangerous work conditions, with unreliable salaries and little job security. Through an engaging global cast of characters, the film pulls back the curtain on the magic of technology.
Ask your question from the Director!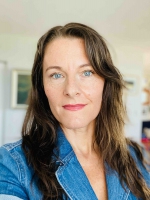 Shannon Walsh has written and directed feature documentaries, as well as numerous short films and VR works. Shannon's films have been broadcast, theatrically-released and exhibited in film festivals globally. Her work has also screened in museum spaces, including the Venice Biennale and the Pompidou Centre in Paris. Shannon is an Associate Professor at the University of British Columbia. She is a 2020-2021 Guggenheim Fellow.
Selected filmography:
2019 – Illusions of Control
2013 – Jeppe on a Friday
2011 – St-Henri, The 26th of August
2009 – H2OIL