The Man Who Was Looking For His Son
L'homme qui cherchait son fils
Distribution info:
Andana Films contact@andanafilms.com
Wu and Nana's firstborn baby boy, Guo Zhen, whom they cherished, was kidnapped at the age of one and has been missing ever since. While the abduction and sale of toddlers has been an unaddressed social problem for decades, the boy's father, Wu, does not sit idly by. He believes his son is still alive, and has dedicated his life for the last ten years to finding him. Alone in his misery, he covers a wide area on his motorbike, tirelessly searching for his missing son. But the more he is driven by his hopes of reuniting with his missing child, the more distanced he becomes from reality and the loved ones who need him at home.
Ask your question from the Director!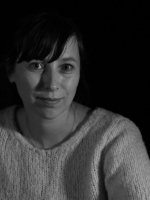 Delphine Deloget is a French filmmaker and reporter. Her films No London Today and Under the Skin were selected and awarded in numerous festivals: ACID Cannes IFF, New York IFF, Visions du réel, and Doclisboa among others. She is the winner of the Albert Londres Prize, the Best Documentary Award at the New York Film Festival and the Scam's Work of the Year Award for Under the Skin (Voyage en barbarie, 2014). Her last short fiction, Tigre, won the Canal+ Prize in the National Competition at the Clermont-Ferrand ISFF 2019.
Selected filmography:
2019 - Tigre (fiction short)
2008 - No London Today