Producer:
Jeremy Dear
Stevie Lee
Al Morrow
Distribution info:
MetFilm Sales Ella Pham ella@metfilm.co.uk
Awards:
British Independent Film Awards 2021 Best Documentary
Sundance 2020 Audience Award
Based on the bestselling book by Naoki Higashida, The Reason I Jump is an immersive cinematic exploration of neurodiversity through the experiences of nonspeaking autistic people from around the world. The film blends Higashida's revelatory descriptions of his autism, written when he was just 13, with intimate portraits of five remarkable young people. It opens a window into an intense and overwhelming, but often joyful, sensory universe, a rich tapestry that leads us to Naoki's core message: not being able to speak does not mean there is nothing to say.
Ask your question from the Director!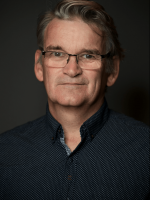 Jerry Rothwell is a filmmaker whose previous work includes the award-winning feature documentaries: How To Change The World, about the founders of Greenpeace; Sour Grapes (co-directed with Reuben Atlas) a film about a wine counterfeiter; School In The Cloud, about radical educationalist, Sugata Mitra; Town of Runners, about two girls in an Ethiopian village who aspire to be athletes; Donor Unknown, about a sperm donor and his many offspring; Heavy Load, about a group of people with learning disabilities who form a punk band, and Deep Water (co-directed with Louise Osmond), about Donald Crowhurst's ill-fated voyage in the 1968 round the world yacht race. His work has won numerous accolades including two Grierson Awards, an Audience Award and Special Jury Prize at Sundance Film Festival, an RTS Award, the IDA Pare Lorentz Award and a BAFTA nomination.
Selected filmography:
2018 - The School in the Cloud
2016 -Sour Grapes
2015 - How to Change the World
2012 - Town of Runners
2010 - Donor Unknown
2006 - Deep Water