The film provides an intimate insight into the life of a young couple with Down-syndrome. Cili and Marci share the same household and live an independent life. They live in perfect harmony, have fun and frequent discussions, as well as they are preparing for their upcoming wedding. Apart from their planned future together, their everyday lives are framed by their passion for art. While Marci is acting in Balthazar Theatre, Cili weaves carpets and teaches dance. They both play music.
Ask your question from the Director!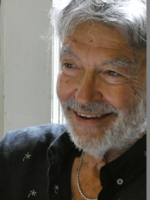 György Dobray (born 1942, in Budapest, Hungary) graduated from the Department of Cinematography of the Film Academy in 1965. He has produced documentary, educational and literary films for Hungarian Television, and fiction films for the Hungarian Film Production Company. He is currently working on documentary and TV films, as well as a fiction film. He received the Hungarian Balázs Béla Award in 2010.
Selected filmography:
2020 - Kövek (Stones)
2017 - Próbajáték (Trial Game)
2005 - Gólyamese (Stork Story)
2002 - Szerelem utolsó vérig (feature fiction)
1988 - Szerelem második vérig (feature fiction)
1985 - Szerelem első vérig (feature fiction)