Wandering, a Rohingya Story
International Competition
Director:
Mélanie Carrier, Olivier Higgins
Producer:
Mélanie Carrier
Olivier Higgins
Editor:
Amélie Labrèche
Olivier Higgins
Writer:
Mélanie Carrier
Olivier Higgins
Cinematographer:
Renaud Philippe
Olivier Higgins
Sound:
Olivier Higgins
Kala Miya (Kalam)
Pierre-Jules Audet
Luc Boudrias
Distribution info:
SPIRA Robin Miranda das Neves projets@spira.quebec
Awards:
Canadian Screen Awards 2021 Ted Rogers Best Feature Length Documentary Award
Quebec City FF 2020 Audience Award
Wandering, a Rohingya Story is an immersive, poetic and powerful look into the biggest refugee camp in the world, the Kutupalong refugee camp. In 2017, 700,000 Rohingya Muslims fled from the genocide in Myanmar (formerly Burma), to seek asylum in Bangladesh. Within a few months, the Kutupalong refugee camp became the biggest camp in the world. Between poetry and nightmares, food distribution and soccer games, the film guides us through a labyrinth of makeshift shelters, bearing witness to the daily lives of Rohingya refugees and the ghosts of the past.
Ask your question from the Director!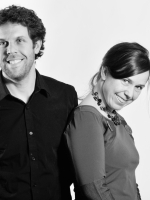 Born in Québec City (Canada), Olivier Higgins and Mélanie Carrier are biologists by trade. They discovered video while documenting their numerous adventures. In 2007, they directed and produced the documentary film Asiemut, which chronicles their 8000 km cycling trip from Mongolia to India. In 2010, the director-producer couple founded MÖ FILMS, an independent production company devoted to documentary films, whose objective is to contribute to the debates and societal challenges of our times. Their latest documentary feature film, Wandering, a Rohingya Story examines the Rohingya refugee crisis in Bangladesh. Along with this film, they produced and designed a multidisciplinary exhibition, including the works of several artists, at the Quebec National Museum of Fine Arts (MNBAQ).
Selected filmography:
2015 – Québékoisie
2011 – Encounter
2007 – Asiemut