Parrhesia: The Moment of Truth
Producer:
Rintu Thomas
Sushmit Ghosh
Co-producer:
John Webster
Tone Grøttjord-Glenne
Editor:
Sushmit Ghosh
Rintu Thomas
Cinematographer:
Sushmit Ghosh
Karan Thapliyal
Music:
Tajdar Junaid
Ishaan Chabbra
Production info:
Black Ticket Films Production
Distribution info:
Autlook Stephanie Fuchs stephanie@autlookfilms.com https://www.autlookfilms.com/
Awards:
Sundance 2021 Special Jury Award: Impact for Change & Audience Award
San Francisco FF 2021 Best Documentary Film
HotDocs 2021 Top 5 Audience Award
Krakow Film Festival 2021 Silver Horn
Led by a fearless chief correspondent, the reporters at Khabar Lahariya, who are both women and Dalits (considered "untouchables" according to the Hindu caste system), bravely face every day discrimination to expose long-standing injustices. The reporters listen patiently to the many victims of violence, incompetence and oppression in India's Uttar Pradesh. Most have little experience with journalism or smartphone technology, but together focus on the bigger picture to take on stories ranging from elections to corruption to sectarianism, through their newly digitized news service. A powerful and uplifting documentary about the fearless fight for truth and justice in the face of hostile patriarchy and the rise of the right.
Ask your question from the Director!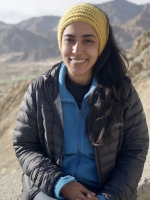 Rintu Thomas is an award-winning director-producer from India whose work is supported by the Sundance Institute, Chicken & Egg Pictures, IDFA, SFF Film Fund, Doc Society, Tribeca Institute, Finnish Film Foundation and Bertha Foundation, among others. Over the last 10 years, Rintu's films have been used as advocacy tools for social impact, included in the curriculum of universities and exhibited globally in spaces such as the United Nations Climate Change Conference and The Lincoln Center for Performing Arts – becoming catalysts for new conversations. A Sundance and Japan Foundation fellow, Rintu lives between New Delhi and a quaint mountain-town in North India.
Selected filmography:
2012 - Timbaktu (documentary short)
2011 - Dilli (documentary short)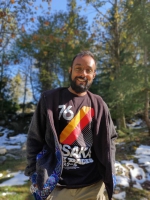 Sushmit Ghosh is an award-winning director and cinematographer from India whose work has been supported by the Sundance Institute, Tribeca Institute, Doc Society, SFF Film Fund, IDFA, The Bertha Foundation, Sorfond and the Finnish Film Foundation, among others. In 2009 Sushmit co-founded Black Ticket Films, a production company invested in the power of storytelling. With a strong eye on social justice stories, Black Ticket Films' award-winning slate of films are being used as advocacy, impact and education tools by institutions across the world. In his spare time, you'll find Sushmit motorcycling and hiking through the Himalayas.