Producer:
Carsten Aaronsen
Even Benestad
Writer:
Sverre Kvamme
Petter Aaberg
Cinematographer:
Sverre Kvamme
Petter Aaberg
Distribution info:
Indiefilm Carsten Aanonsen carsten@indiefilm.no
Awards:
Norwegian International FF 2021 Audience Award
Nordisk Panorama 2021 Best New Nordic Voice Nominee
Young and Afraid is a raw film about young people fighting their demons. In the autumn of 2017, Petter (24) was standing on top a bridge, preparing to end his life, when he was stopped by the police. This started a therapeutic journey with his best friend, Sverre. Equipped with a film camera, they scour the streets of Oslo, befriending people struggling with their own problems, from drug addiction to accepting their sexuality. The filmmakers want to shed light on how people cope with the challenges they face. By trying to understand their destructive patterns, Petter becomes aware of his own.
Ask your question from the Director!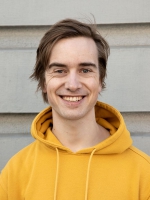 Petter Aaberg is born and raised in Oslo, Norway. He graduated from Nordland Collage of Art and Film in 2017. While exploring he has found a voice through the documentary genre and the spontaneous exploration of human interactions.
Sverre Kvamme (1994) grew up in a small village in Western Norway. He studied at The European Film College and Nordland College of Art and Film and has a BA from Tromsø Academy of Contemporary Art.