The 7th Verzió DocLab is a 4-day intensive editing workshop for directors, writers and editors, organized during the 19th Verzió International Human Rights Documentary Film Festival, in Budapest, 9-12 November 2022. This year's focus is on story development and editing. With the guidance of international mentors, you will work on your documentary project's story, and edit a festival trailer or a selected scene to present to an audience of festival programmers, sales agents and producers at the end of the workshop.
Verzió invites you to share stories from your community, your experience, your perspective. The workshop aims to guide you in reaching the artistic and cinematic potential of your project. With DocLab, your voice can be heard and you can make an impact in the industry as a visual storyteller. Find the core of the story you want to tell.
The workshop is a platform for both beginners and advanced filmmakers interested in documentary filmmaking; all levels of experience and all backgrounds are welcomed. You can apply with production-phase, mid-length or feature-length documentary projects. We are looking for projects that are 50-80% ready, which already have some exemplary footage, but you can also apply if you plan to continue shooting.
An international team of directors, scriptwriters, editors, and programming experts will help the eight selected teams create a clearer dramaturgical structure for their documentary films. Teams will define, develop and strengthen the key narrative elements of their projects with the guidance of outstanding mentors, such as Tue Steen Müller (DK), Michael Seeber (AT). You can also work on a festival trailer, or one or two selected scenes with the help of excellent editors Brigitta Bacskai (HU) and Diana Toucedo (ES). During the 4-day intensive program you will work in groups, have one-on-one meetings, and receive individual tutoring. At the end of the workshop you will present your project to sales agents and festival curators as part of a public event. As a result, you will get not only professional guidance for post-production, but experience in pitching, which can be used later for fundraising and further project development. Through our partnership with other international film festivals, Verzió can offer select projects the opportunity to attend other industry events.
Participation is free of charge and comes with full festival accreditation, but travel and accommodation costs will not be covered. Applicants from Ukraine will have selection priority and will be provided with financial assistance and an official invitation letter.
Who should apply?
Documentary filmmakers, creative professionals committed to social, political and human rights issues.
Max. 2 participants per project, one of whom must have the necessary editing skills. Directors can also be editors for their projects.
In order to apply, please submit:
a link to the selected 1 or 2 scenes, or trailer, you plan to work with during the workshop, with English subtitles (max. 30 minutes)
BIO of the applicants and contact details (max. 300 words each)
a high-resolution portrait photo of the applicants
link(s) to previous film(s) (if applicable)
three high-resolution stills from your film
a short (max. 150 word) synopsis
a film treatment (if you already have one)
a short introduction of the partners, producers, company and their contacts (if applicable)
Please fill THIS FORM in order to submit your application.
Deadline: 26 September, 2022.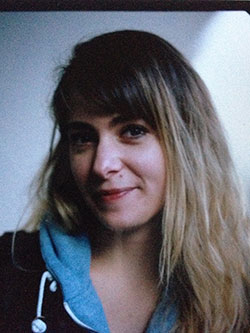 Brigitta Bacskai
Brigitta got her Film and Motion Pictures Editing degree at the University of Theatre and Film Arts in 2014. She continued her master's studies in Norway, at the Norwegian Film School. She has attended several master courses and seminars, such as Norman Hollyn's editing workshop in Prague, Monika Willi's masterclass in Copenhagen, Chris Dickens' masterclass in London, and completed Robert McKee's story seminar in Ireland, in 2016.
She has been working as an editor since 2008. During this time, she has edited numerous works of fiction, animations, and documentaries. Her first feature project won the Gamechanger award at SXSW Film Festival. A short animation, Balcony, won the Jury Prize at the Annecy Festival, and Traub Viktoria's Mermaids and Rhinos received the Hungarian Film Critics Award. Her most recent documentary, Too Close, was screened in the Documentary Competition of the Sarajevo Film Festival. She teaches editing and dramaturgy for animation and motion picture students, and is a member of HSE, the Hungarian Society of Film and Video Editors.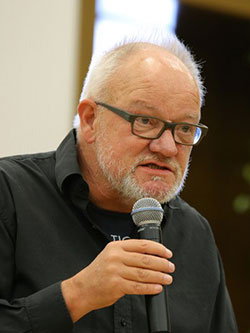 Tue Steen Müller
Tue Steen Müller has worked with documentary films for more than 20 years at the Danish Film Board, as press officer, festival representative and film consultant/commissioner. He is the co-founder of Balticum Film and TV Festival, Filmkontakt Nord, Documentary of the EU, and EDN (European Documentary Network). From 1996 until 2005 he was the first director of EDN (European Documentary Network). Since 2006, he has been a freelance consultant and teacher in workshops like Ex Oriente, DocsBarcelona, Archidoc, Documentary Campus, Storydoc, Baltic Sea Forum, Black Sea DocStories, Caucadoc, CinéDOC Tbilisi, Docudays Kiev, Dealing With the Past Sarajevo FF, as well as programme consultant for the festivals Magnificent7 in Belgrade, DocsBarcelona, Message2Man in St. Petersburg, and DOKLeipzig. He teaches at the Zelig Documentary School in Bolzano, Italy, and writes reviews at www.filmkommentaren.dk. In 2004 he received the Danish Roos Prize for his contribution to Danish and European documentary culture. In 2006 he received an award for promoting Portuguese documentaries, and in 2014 he received the EDN Award "for an outstanding contribution to the development of European documentary culture". In 2016 he was honoured with The Cross of the Knight of the Order for Merits in Lithuania. In 2019, he received a Big Stamp at the 15th edition of ZagrebDox. He received the highest state decoration, the Order of the Three Stars, Fourth Class, for his significant contribution to the development and promotion of Latvian documentary cinema outside Latvia in 2021. The following year he received an honorary award at DocsBarcelona's 25th edition, for having served as organiser and programmer since the start of the festival.
Documentary Consultant and Critic, DENMARK
Michael Seeber
Since 1990, Michael has produced over 45 documentaries, TV doc series and feature films, among them internationally successful and highly-awarded films, such as Luna Papa (Bakhtiar Khoudojnazarov), Bella Martha (Sandra Nettelbeck), The Venice Syndrome (Andreas Pichler), Everyday Rebellion (The Riahi Brothers) and A Good American (Friedrich Moser, Executive Producer Oliver Stone). He wrote the scripts for several documentaries (i.e. Food Design, Hot Spot, BEER!, ÒRAIN – Beethoven), and directed TV documentaries such as the Vienna episode of the TV-series Food Markets. In the Belly of the Cities, which has been sold worldwide. From 2009–2020 Michael worked as a tutor and adviser for the European MEDIA training program for script development SOURCES 2.
Since 2018 he has concentrated almost exclusively on his work as a director and writer for his own documentaries (i.e. most recently ÒRAIN – Beethoven for WDR, ARTE, BBC etc.). He is currently preparing to shoot his feature documentary, Forbidden Music (CAN, ITA, AUT). His awards include the Theodor Koerner Award for Literature (1987) and the Austrian Film Award for Best Documentary (2013). Michael lives in Vienna, and is a member of the European Film Academy and the Austrian Film Academy.
Director, Scriptwriter, Dramaturg, Producer, AUSTRIA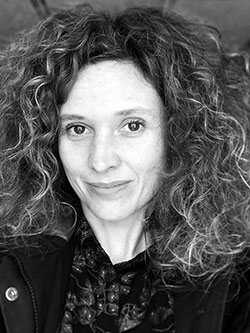 Diana Toucedo
Diana Toucedo, is a Spanish filmmaker and editor based in Barcelona and Amsterdam. She stands at the intersection of film and research. Her work has been selected for film festivals, such as the Berlinale, IDFA, San Sebastian International Film Festival, Nara International Film Festival, Sao Paulo International Film Festival, FIDBA, Pesaro, DocLisboa, Visions du Réel, and others, and museums, like CCCB and the Centre Pompidou. Diana has edited more than 25 feature films to date, which have premiered and won awards at IDFA, Rotterdam, Cannes Semaine de la Critique, Moscow International FF, etc. She has also edited series for Netflix, HBO and Movistar. Diana currently combines her profession with teaching at Pompeu Fabra University (UPF), and is core-teacher in the Master of Film at the Netherlands Film Academy. She is also pursuing a PhD in Practice-based Communication, exploring how moving images address identities, memories, historical crystallizations and social tensions.
Editor, Director, Producer, SPAIN
---

APPLY AS AN OBSERVER WITHOUT A PROJECT!
Apply for the Verzió DocLab International Documentary Workshop on Editing and Story Development as an observer, without a project!
Observers can attend the DocLab workshop's group work sessions and masterclasses to learn about story development and editing from the project teams and mentors.
Participation is free of charge and comes with full festival accreditation, but travel and accommodation costs will not be covered.
Applicants from Ukraine will have priority in the selection and will be provided with financial assistance and an official invitation letter.
Who should apply?
Filmmakers, creative professionals and students committed to social, political and human rights issues who want to deepen their knowledge in documentary filmmaking, and expand their professional network internationally.
In order to apply, please submit:
a motivation letter (maximum 500 words)
a short CV, and contact details
Please fill THIS FORM in order to apply as an observer.
Deadline: 26 September, 2022.