Guests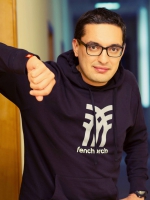 DocLab Tutor
Tahir Aliyev holds Doctoral Degree in International Relations and Master Degree in Audiovisual Production. He was involved in production of the Eurovision Song Contest in Baku and other film and music festivals in Azerbaijan, where he spent part of his life. Since 2003, he is based in Helsinki, Finland. Since 2007, Tahir Aliyev acts as co-founder and CEO of Helmi Films, an independent television and film production. During last 7 years Helmi Films produced over 20 films, mostly creative documentaries, including Woman on Hold, Unplugged, The Roots, Family Angel, Memories from Baku. In 2013, Tahir Aliyev became the executive producer of the Baku Media Center in Azerbaijan.
sound editor
He graduated from the Hungarian Film Academy in 2011. In the past seven years he has worked on over 100 productions as sound mixer, boom operator, post sound engineer and sound designer for major Hungarian productions.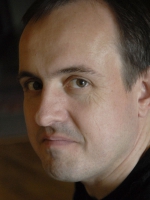 David Čeněk is professor of film history at the Philosophical Faculty of the Charles University in Prague, and at the Film and TV school of the Academy of Performing Arts (FAMU). He is a member of various Film Festival selection committees in the Czech Republic, focusing primarily on Spanish, Latin American and French selections. He has curated numerous retrospectives of Mexican, Brazilian and Spanish films as well as New Latin American cinema. Along with several edited and authored books on the histories of Mexican, Brazilian and Spanish cinema, and the co-edited volume Visual Anthropology - A Culture Experienced and Seen (with Tereza Porybná. Pavel Mervart: Červený Kostelec, 2010), he has recently published the monograph Chris Marker (JSAF & NAMU, 2012).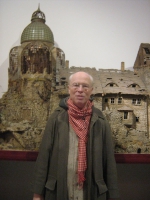 Bernard Eisenschitz is a film historian, translator, and program curator living in Paris. His books include Roman américain, Les Vies de Nicholas Ray (1990, US edition: Nicholas Ray, An American Journey, 2011), Chris Marker (editor, Rome, 1996), Le Cinéma allemand (1999, 2008), Gels et dégels : une autre histoire du cinéma soviétique, 1926-1968 (editor, 2000), and Fritz Lang au travail (2011).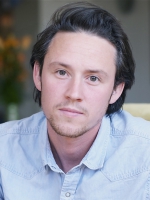 Director
Harry is an award winning British Documentary filmmaker and Photographer. As a director and cinematographer his passion is for human-interest, observational, issue based stories and his love of Africa in particular has led him to travel and work in 17 African countries. Harry founded UK production company, Inroad Films in 2010, to produce his debut feature documentary, In The Shadow Of The Sun, produced for BBC Storyville and ITVS International. The film has won a number of International awards including the 2013 Best Documentary Award at the One World Media Awards and has gone on to be broadcast in 10 countries and screened at over 50 International film festivals around the world. Inroad makes films for both the cinema and television. He has a unique trademark in making raw, personal and intimate observational films in some of the remotest regions in the world. Harry has recently started production on his next documentary set in North West Cameroon.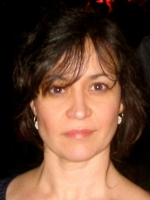 Christy Garland is a documentary producer and director. Recent projects include Canadian/Danish coproduction The Bastard Sings the Sweetest Song; Arctic City Spirit, a Canadian/Finnish project currently in development with Liisa Juntunen of Napa Films. She is developing another film in the West Bank, called Walaa.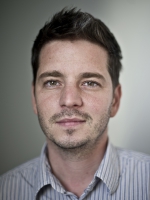 director
András D. Hajdú was born in 1981 in Budapest. He is a multi-award winning photojournalist and multimedia creator. His primary interest has always been sociological photography. He has compiled and published a large number of photo series reflecting on the realities of life in Hungary and Eastern Europe, several of which are multi-year projects. Over the past eight years he has worked as a part-time photo journalist for Origo, a leading online news portal in Hungary, and dedicated the rest of his time to projects that go beyond day-today photo journalism. He is one of the lecturers at the department of Photojournalism at Budapest College of Communication and Business.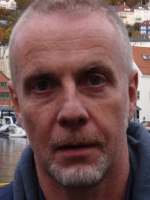 Jochen Hick is a freelance writer, journalist, director and producer of film and television. He studied film at the Academy of Fine Arts of Hamburg (HFBK) between 1981 and 1987. In 1994 he founded the production company GALERIA ALASKA PRODUCTIONS realizing foremost feature-length documentaries and fiction films about LGBT topics. From 2007 until 2010 he was commissioning editor, chief buyer and deputy director of programing at TIMM television channel. He is also a part-time lecturer at the German Film and Television Academy Berlin (DFFB). He lives both in Hamburg and Berlin.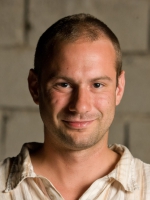 director
Márton Magócsi was born in 1979 in Budapest. He has been working as a photojournalist and photo editor since 2009. Since 2012, he has produced several documentary and multimedia pieces that incorporate moving pictures, including the country's first interactive feature and the award-winning The Wall We Call a Fence at his current job as editor-in-chief for photography for Hungarian online newspaper Origo.hu.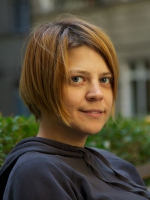 director
Márti Mészáros is a psychologist by profession. She works with torture victim refugees at the Cordelia Foundation in Budapest. She made short videos for the Hungarian Civil Liberties Union as a volunteer in 2012. Currently, she is freelance documentarist focusing on refugees.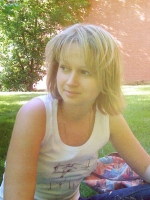 S.P.A.R.T.A. - The Territory of Happiness, director
Anna was born in Ulyanovsk, she studied philology, journalism and marketing at Moscow State Humanitarian University. After graduation, she gained experience working as a journalist. In 2010, she graduated from Marina Razbezhkina School of Documentary Film and Documentary Theatre (Moscow). Since 2010, Anna directed, filmed, and edited several creative documentary films. In 2012, she among the 10 directors of Winter, go away! (2012) which covered political protests in Russia. S.P.A.R.T.A. – the Territory of Happiness is her feature-length debut for which she received the Best Film Award at the Flahertiana Film Festival (Russia).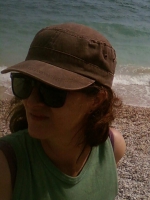 editor
Ági Mógor was born in Budapest in 1967. She graduated from the Hungarian Film Academy in 1998 as editor and has worked on more than 20 film projects since including feature, short and documentary film.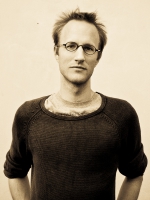 director
Dénes Nagy graduated from the University of Theatre and Film Arts, Budapest, in 2009 followed by studies at the Berlin Film Academy. Currently, he is doing his doctoral studies at the Moholy Nagy University of Art.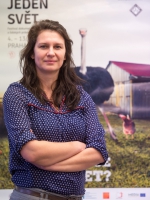 One World Echoes, One World International Human Rights Documentary Film Festival Representative (www.oneworld.cz)
Born in 1976, Martina lives in Prague, Czech Republic. She graduated from the Academy of Fine Arts and Design in Bratislava, Slovak Republic. From 2007 to 2011 she was the coordinator for the Nama project, conducting workshop for the HIV positive people in Namibia and Prague. She currently works for People in Need, the biggest Czech NGO. Since 2012 she is a coordinator at One World Festival. In 2013, she became the Head of One World production.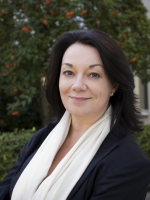 DocLab Director, Tutor
Leena Pasanen began her career as a reporter in the Finnish Parliament in the late 1980's. She worked in various different positions in YLE - the Finnish Broadcaster, i.e. the head of documentaries for YLE TV1 and head of programmes in YLE Teema. Pasanen worked as the director of EDN (European Documentary Network) for three years, until she returned to YLE as Coordinator of Programmes at YLE Fact and Culture. In 2011 she began as the director of Finnagora, the Finnish Institute in Hungary. Pasanen is a regular expert, tutor and lecturer for several documentary training programs, i.e. EDN, Discovery Campus, EURODOC and Television Business School. She's a EURODOC graduate year 1999 and a member of the international advisory committee of Hot Docs. She's also been a member of the board of IDFA Forum, INPUT and the Bonnier's Journalistic Award in Finland and served as a jury member for several international festivals, among others Sundance and IDFA.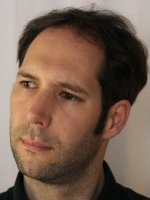 director
He graduated as a cinematographer at the German Film- and Television Academy, Berlin in 2008. In 2009 he took part at the Berlinale Talent Campus as cinematographer. His short film, The Boy in 2013 was awarded by international Jury (Hipnózis Professional Advertising Competition) and got the Audience Award from www.kreativ.hu as Best Commercial Film 2012 in Hungary.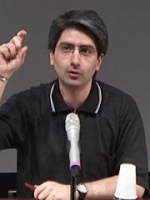 Bamchade Pourvali is a French writer and essayist. He specializes in film essay and Persian cinema. He has written articles on Chris Marker, Jean-Luc Godard, Wong Kar-wai, and Dziga Vertov. As editor of the educational portfolio for the "Planet Marker" retrospective at the Pompidou Centre, he published the article "Godard and Marker, essayists" for Cinélittérature (September-October 2013), and co-directed with Catherine Ermakoff the special issue on Chris Marker for Vertigo (2013). He is also in charge of the festival and website Cinéma(s) d'Iran, dedicated to Iranian film history and contemporary Iranian cinema (www.cinemasdiran.fr).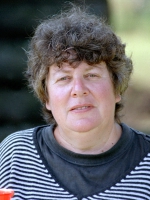 Optical Axis, director
Director, scriptwriter, producer. Born in Kazan. Graduated from the KazanUniversity as a philologist. Was a teacher at a village school, later a reporter in republican newspapers. In 1989 Marina Razbezhkina started writing and shooting documentaries. She wrote and directed more than 40 non-live-action films which participated in competition at the festivals IDFA (Amsterdam), "Prix Europe"( Berlin), "Message to Man" (St.Petersburg), "Vila do Conde" (Portugal), "Drama" (Greece) and many others. In 2004 Razbezhkina made her first feature film Harvest Time which won the FIPRESCI Prize at the MIFF in 2004. This film was screened at more than 50 international festivals and won prizes in Chicago, Thessaloniki, Taipei, Jeonju and many other festivals. It was nominated for the Fassbinder Award of the European Film Academy. 2007 saw the release of the second live-action movie The Hollow. For the past 7 years Marina Razbezhkina has headed the School of Documentary Film and Documentary Theatre, which she founded together with Mikhail Ugarov. Films by the School graduates participate in Russian and international festivals.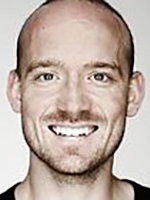 Kaspar Schröder is a self-taught visual artist and designer. Though based in Copenhagen, he often works in Asia. Has exhibited visual work and released music in Copenhagen, Amsterdam, Bruxelles, New York, Shenzhen and Tokyo. His documentary "City Surfers" (2007) won Best Danish Film and Filmic Award at the D.A.F.F. Festival. "Opfindelsen af Dr. Nakamats"/The Invention of Dr. Nakamats" (2009) was selected for IDFA's Mid-Length Competition. "Min legeplads"/"My Playground" (2010), exploring Parkour and Freerunning was selected for the IDFA's Reflecting Images: Panorama and DOC U! Competition.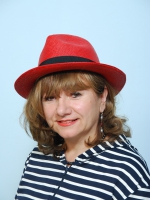 DocLab Tutor
Rada Šešić was born is former Yugoslavia (Croatia), lived in Sarajevo (Bosnia and Herzegovina), directed in her home country several documentaries and shorts, worked as a film critic and a journalist for Radio Television Sarajevo and for the film magazine Sineast. Today she is a filmmaker, lecturer, critic, and curator. She works as a mentor at The Master of Film Studies at The Netherlands Film Academy Amsterdam. From 1993 lives in Utrecht. Since 2000 works as a program advisor of IFFR Rotterdam and is on a selection comity of IDFA. She heads the Competition Documentary Programme at Sarajevo Film Festival as well as Rough Cut Boutique. Rada was invited as a tutor at several international workshops and pitching sessions (Dragon Forum, Doc Lisboan, Docs Thessaloniki. Baltic Forum Riga, Ex Oriente Prague/Warsaw, Damascus Dox Box, and Doc Edge Kolkata). She is one of tutors of the Balkan Documentary Centre in Sofia. For six years was a lecturer of The Dutch Institute for the Film Education (NIF). She has also served at dozens juries at the film festivals around the world.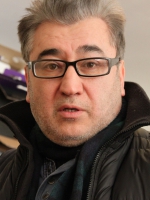 Holocaust – a paper glue?, director
Mumin was born in Dushanbe (Tajikistan). He completed his studies in Film Directing at the Moscow Film School (VGiK) in 1989. His first feature All Quiet in Baghdad was released in 1992. In the early 1990s he started working as an investigative journalist at the weekly newspaper Literaturnaya Gazeta. In 1998 Mumin joined the Russian Bureau of the Radio Liberty. He travelled to prepare special reports on various parts of Russia as well as on Abkhazia, Chechnya, Georgia, Latvia and Uzbekistan. In 2004, Mumin Shakirov co-directed an award-winning documentary Contest (with Zygmunt Dzieciolowski) about a beauty pageant at a women's prison labour camp in Novosibirsk. Their next joint project, The Leader's Image, was about nine Russian actors who all played Vladimir Lenin at various stages of their careers. Further documentaires inlcude Hollywood. Russian Track (2008) and Oriental Express (2009). Mumin also hosted a weekly radio broadcast "Film Formula" and wrote a book on drug smuggling in the former Soviet republics.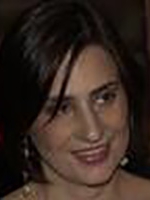 Shari Spiegel has been making films since 2003, when she and husband Alan Berliner collaborated on a short film they edited together for their wedding. Shari is the Co-Producer of First Cousin Once Removed, and a strong force behind the the making of the film. She was also a pivotal character both in front of and behind the camera in Wide Awake (2006), Alan Berliner's film about insomnia, where her credits included Story Consultant and Additional Camera. In another life, Shari is also an economist with a strong historical connection to Budapest, where she lived for three years in the early 1990's. She was one of the founders of Budapest Alapkezelo, serving as its first CEO. She also worked as a foreign adviser to the Magyar Nemzeti Bank, and as a lecturer at Bankarkepzo. From 2002 to 2007, Shari was the Executive Director of the Initiative for Policy Dialogue (IPD), a progressive economics think-tank founded by Nobel Laureate Joseph Stiglitz at Columbia University. When she's not collaborating on films, Shari lives with Alan and their son in New York City, where she is currently Chief of the Policy Analysis branch of the Financing for Development Office at the United Nations.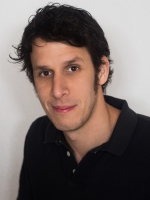 He studied social work at Eötövs Loránd University in Budapest. He worked with disabled and homeless people for years. He worked for the Video Advocacy Program of the Hungarian Civil Liberties Union from 2011 to 2014. He won Hégető Honorka prize in 2013 and Sós Mária prize in 2014.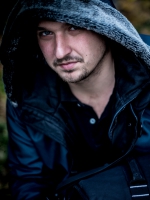 director
Balázs Szabó, born in 1985, was a student of MUOSZ Journalist Academy and the Faculty of Social Sciences of ELTE University at Budapest. He has been working as a photojournalist for different news portals, since 2010. The Wall We Call a Fence is his first video work.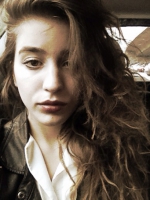 Dóra Szelei was born in Budapest in 1989. She studied at the University of Middlesex in London at the faculty of Film, Video and Interactive Arts in 2009, and has recently graduated from the University of Applied Sciences in Budapest, Faculty of Film and Media Studies.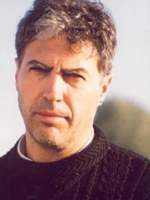 DocLab tutor
Stefano Tealdi was born in Johannesburg, South Africa, Stefano Tealdi studied architecture in Turin, Italy. After graduating he became responsible for film and TV production in the audiovisual laboratory of the Politecnico di Torino. In 1985 he co-founded Stefilm, working as a director and producer. Since 1988 he has directed and produced documentaries on various issues, mainly concerning Africa and Italy. His international co-productions have involved over 40 European and North American broadcasters. In 1992 he graduated at the MEDIA training course "EAVE – European Session". He is a founding member of the Associazione FERT (Filming with a European Regard in Turin), and directed the first fourteen editions of the annual Italian workshop Documentary in Europe. He chaired EDN (European Documentary Network) and is the national coordinator in Italy for INPUT, Television in the Public Interest.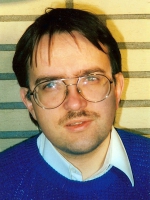 Thomas Tode is a freelance filmmaker, curator and author based in Hamburg. Since 1994, he has lectured at various universities, including Hamburg, Bochum, Zurich and Vienna. He has curated projects for the Kinemathek Hamburg and the Filmfestival "Cinepolis" (about Film, City and Architecture). His research focuses on essay-film, political documentary, avant-garde film and Soviet cinema, and he has published books on Johan van der Keuken, Chris Marker, two books on Dziga Vertov, photo-film, essay-film, and Bauhaus and film. Forthcoming publications include "Advertising Europe in Film."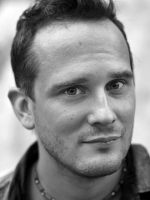 director
Máté Tóth Ridovics was born in 1986 in Budapest. He worked four years at Krétakör Theater where he participated in 13 theatre and media projects as filmmaker, photographer and project manager. Homo Ludens - Diary of a Theatre Project is his first documentary. In 2013 he founded his own visual art collective called FAKT13 Visual Lab. Presently, he is working on film and photography projects.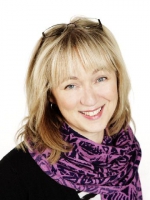 Jenny Westergard is a graduated journalist from Helsinki University and has been working for Yle since 1985. She is currently working as Commissioning Editor for documentaries in the Yle Co-production department. She is mainly commissioning for Yle Fem, the Swedish language channel on Yle. Yle Fem offers full service 7 days a week and all programs are subtitled to Finnish. At the moment Yle Fem has two weekly slots for documentaries; focusing on contemporary, human interest stories with strong storylines and good characters in a social, political context. YLE is the national public service broadcasting company in Finland which operates 4 national television channels, 6 radio channels, and growing internet service.