Documentary films have power. They can inspire and be a call to action. They can be potent tools in the fight for dignity, and against censorship and oppression. In these challenging times, when human rights are under threat around the globe in unprecedented ways, documentaries that can tell these stories on film are of vital importance.
The Verzio DocLab workshop invites you to share stories from your community, your experience, your perspective, by creating a film that deepens understanding of the human rights challenges people face. The workshop is a platform for both beginning and advanced filmmakers interested in documentary and human rights to make a short film, a documentary essay or to edit a scene or episode from a feature-length documentary already in the making. An international team of filmmakers, editors, and human rights experts will offer guidance and mentorship in structuring, editing, and post-producing your film. Subject matter may focus on human rights issues in the broadest sense. The stories should be well researched, based on lived experience, foreground individual personalities, and aim for impact. The workshop participants are expected to arrive with footage shot prior to the workshop and will get tutoring in editing and cinematic structure. The goal of the workshop is to put human rights issues "in focus" by contributing to the creation of films that make an impact, raise awareness, and call for action, either on their own or as part of a broader ongoing campaign.
The workshop takes place at CEU's Mirabaud Media Lab (Budapest) and is organized by Verzio IHRDFF and the CEU Visual Studies Platform. The participation is free of charge, and participants are responsible for organizing their own travel and living arrangements in Budapest. Basic editing experience is required, preferably on Adobe Premiere Pro, which is the platform provided in the Lab. Those attendees editing a project on another platform will need to provide their own laptop. All attendees will need an external hard drive for storage and editing of footage. Participants are required to attend and will get a certificate at the end of the workshop.
The resulting works (or excerpts from works in progress) will be screened during the festival and circulated on-line.
Supported by EDN
The tutors will select the best project of the workshop which will be granted with the support of EDN (European Documentary Network):
- a 2 x 1-hour on-line consultation with EDN director (at a moment of the project owner's choice) and
- a 1-year free membership of the EDN organisation for two persons, representing the project.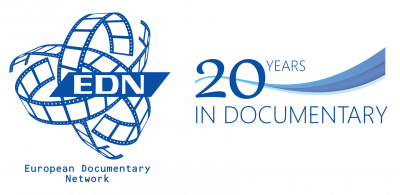 Previous DocLab films can be viewed here >>>> 2017 2016 2015
If you have any questions send us an email to info@verzio.org (subject title: DocLab).
Tutors:
Zsuzsanna Gellér-Varga, D.L.A. is a documentary filmmaker. Her thesis film (UC Berkeley Graduate School of Journalism), Screw Your Courage won awards at US film festivals and was broadcast on public TV. She worked for the New York Times Television as a video-journalist and later directed documentaries (Once They Were Neighbours, 2005, Synagogue For Sale, 2007, Mr. Mom, 2009, and Angel Business, 2018), which were screened internationally and broadcast on public TV. She taught documentary ethics at the international masters program, DocNomads.
Moniek Wester Keegstra is an independent documentary (web)filmmaker, editor, producer, interview trainer and film coach. She directed documentaries for Dutch television and her work was screened at international film festivals. Her latest trans media documentary production 'Jaikaran: Jump or Fall' is almost ready to be released. The documentary 'Gaza, Gabbers and Graffity' was nominated for the Prix d'Europe, selected for the Basic Trust film festival in Israel and several other film festivals. She worked with NGOs Doctors Without Borders, Oxfam Novib and Amnesty International. Moniek was involved as filmmaker and creator of the online platform '26000 Faces' with short film portraits about asylum seekers in the Netherlands which created political impact on Dutch politics. She is co-creator of the longitudinal online 'Lifeboat Project' about hiv and stigma. The essence of her work is to get to the core of human experience.
Levente Pap is a freelance film editor. He has been working for several award winning fiction films and documentaries since 2000. His latest short fiction "Cubeman" won more than 30 awards all around the world. He is also a promo producer for HBO Hungary, and an editing consultant and post supervisor for DocNomads Joint Masters in University of Theatre and Film Arts, Budapest.
---
DocLab 2018 participating projects:

Black Doc (Kyrylo Nechmonya, Andrii Kirshyn, Ukraine)
Denis is a volunteer who initiates group trainings in Tactical Combat Casualty Care (TCCC) to help wounded Ukrainian soldiers.
Lesvos Story (Talitha Brauer, Winnie Schwarz, US)
The project explores the interconnected lives of four Greeks and four refugees from Syria, Iraq and Afghanistan, who all call the island of Lesvos "home".
A Stranger in the Courtroom (Charlotte Bruneau, Luxembourg and Paula Onet, Romania)
A human rights lawyer takes on three thorny cases left behind by interna- tional justice and discovers that what is legal is not always fair.
Szia Sári! / Dear Sari! (Sari Haragonics, Hungary)
The project follows three men of three different generations (the director's father, cousin, and brother) in typical life-changing situations as seen- through the eyes of the only female family member, the director, Sari.
I Haven't Died (Asia Dér, Hungary)
51-year-old Peter struggles with pancreatic cancer. How does the psyche react to a fatal illness?
What will the title be? (Kata Oláh, Borbála Csukás, Hungary)
Two Roma boys dream of writing a musical film based on their life and true loves.
Door of the East, Taboo (Ali Medoo, Iraq)
Three Arab women left their home countries for France. They struggle to achieve their dreams away from fear, religious fundamentalism, and war. Will they succeed?