Student & Debut Competition
Editor:
Nang Cho Lae Yee Thein
Sai Nyi Min Htut
Distribution info:
Yangon Film School Johanna Huth huth@yangonfilmschool.org
To his mother, Agyip is a 19-year-old who works as a hotel receptionist. What she doesn't know is that by night her son has another persona and another life – as 'Violet Katy'. In conservative Myanmar, drag is something of a nascent art and often frowned upon, but Agyip and his friend Myint Kant Zin are determined to don their make-up and costumes, strut their stuff and live the lives they want – in spite of family pressure.
Ask your question from the Director!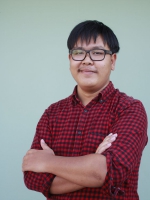 Sai Nyi Min Htut is from Kyaukme, in Myanmar's Northern Shan State. After getting a degree in English from Lashio University, he spent several years working as an activist and writing about LGBTQI and other human rights issues before joining the Yangon Film School in 2020. Boy Queen, which he co-edited with fellow YFS student Nang Cho Lae Yee Thein, marks his directorial debut.