Writer:
Alexa Bakony
Marianna Rudas
Tobi is a teenager from a small Hungarian village where locals are struggling to make ends meet. In an increasingly conservative atmosphere, where trans rights are curtailed, this insightful documentary follows the journey of Tobi and his mother. Having come out as male in his mid-teens, Tobi later shifts towards a non-binary identity. It's a steep learning curve for the family to re-evaluate the deeply ingrained gender binary in this conservative rural environment, but for this caring and communicative group, love wins the day.
Ask your question from the Director!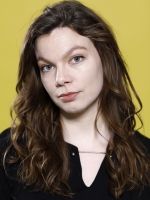 Alexa Bakony graduated as a director from the University of Theatre and Film Arts, Budapest. Her first feature-length documentary, Colors of Tobi, has been supported by the Sundance Institute and the Hungarian National Film Institute. It has been critically acclaimed and selected to many international festivals, such as DOC NYC, BFI, and Thessaloniki.