Opening film
Hungarian Competition
Student Verzió
Writer:
Eszter Angyalosy
Pál Gáspár Gelléri
Máté Kőrösi
Alexandra Láng
Production info:
Makabor Studio, HBO Europe
Distribution info:
Reservoir Docs sales@urbangroup.biz
Szani, Tina and Emese, three twenty-year-old girls who spend hours talking about makeup, clothes and profile pictures, call themselves "the divas". They are looking to leave behind their troubled pasts, graduate from high school and start their adult lives. This is when Máté, a young director, comes into the picture. He follows them with his camera until their graduation, hoping to find out what lies behind their makeup, only to realize it is time he himself grew up as well.
Ask your question from the Director!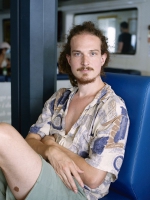 Máté Kőrösi was born in 1992, in Budapest. After graduating from the Film Studies department at Eötvös Loránd University, he studied documentary film directing at the Academy of Theatre and Film Arts, Budapest. He shot several short fiction films during his studies at ELTE, among them Szuper (2015), which was screened at various short film festivals in Hungary. He spent the last years finishing his first feature-length documentary film Divas, co-produced by HBO Europe and Makabor Studio.