This Cannot Be Atoned For
Ezt levezekelni nem lehet
Student & Debut Competition
Distribution info:
Zöld Pók Foundation László Halász halasz.laszlo@zoldpok.hu
After serving a twenty-year sentence for manslaughter, a crime he doesn't remember the cause of, but the weight of which bears down on him daily, Vilmos was released from prison in 2005. Homeless at the time of his release, Vilmos eventually finds housing on the outskirts of Budapest, where he lives with his animals — his family. His daily life is complicated by various physical maladies, including gastric cancer, which forces him, with the help of a team of social workers, to come to terms with his past.
Ask your question from the Director!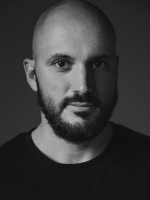 László Halász is a photographer and documentary filmmaker based in Hungary. Since 2012, as a member of the Zöld Pók Foundation, he has been involved in several video projects for NGOs. His focus is on groups and individuals on the margins of society. He worked as a cinematographer in László Bihari's film No Country For Poor Men (Nem szegényeknek való vidék), and Sári Haragonics's film, Szia Sári!. He has also made music videos for the music group Várkonyi Csibészek. This Cannot Be Atoned For is his first directorial work.