A Portrait on the Search for Happiness
A Portrait on the Search for Happiness
Xhosa, English, Zulu, Afrikaans
Student and Debut Competition
Production info:
MSZ Production and Consulting
Distribution info:
Journeyman Films films@journeyman.tv
Festivals and Awards:
Camerimage 2021 Golden Frog Nominee
A desert bordered by a deep cold sea. A torn landscape hiding Earth's purest diamonds. The young men digging for these gems with their bare hands, day and night, are on the frontier of a new rush in South Africa. Hope beckons the former drug addict, Vianey, who yearns for a better life. Nelson Mandela inspires the homeless cook, Patrick, to seek a new, brighter future. Only George, the diamond diver who lost a fortune, still clings to memories of a bygone time. A poetic journey through the desert, wind, and sand.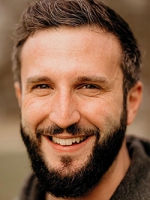 Benjamin Rost studied directing at Filmakademie Baden-Württemberg, and philosophy in Munich. His films have been screened at festivals like DokLeipzig, Dokfest München, and Max Ophüls Preis a.m.m. He has been part of the scholarship program of the "Studienstiftung des deutschen Volkes" since 2016. In 2017–2019, he lived in South Africa and Rwanda, supporting the German Development Organisation (GIZ) with the launch of the youth television channel "Iwacu". In 2019 he participated in the Documentary Campus Masterschool with #Harraga. A Portrait on the Search for Happiness is his graduate film.