Ali, the Hungarian Yazidi
Hungarian, Turkish, Kurdish
Producer:
Anna Tóth
Réka Dubinyák
Gábor Osváth
Distribution info:
Filmfabriq info@filmfabriq.hu
Ali belongs to the Yazidi religious community, a persecuted minority in Iraq. With Ali's life in danger, he escapes to Hungary, where he finds a home, but doesn't lose the feeling that he's an outsider. He decides to make a change and learns to read and write in Hungarian in order to take the citizenship exam. While Ali's loneliness is compounded by his strict religion, he believes he can become accepted like any other Hungarian citizen.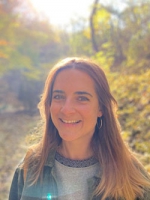 Réka Dubinyák is a scriptwriter from Budapest. After completing a degree in legal studies, she turned her attention to the film industry. She has written scripts for documentary series (Öregharcos, Együtt az Életért Egyesület: Én, te, ők), public service commercials (NANE- Women For Women Together Against Violence Association: Warning sign of domestic violence, 12 weeks) and TV films/series. She has written and directed her first feature-length documentary, and an online series, "Nofilter". In the past few years she has focused on scriptwriting. She is currently working on several projects and is developing a short film.