Student and Debut Competition
Producer:
Miklós Bosnyák
Judit Sós
Viktória Petrányi
Production info:
University of Film and Theatre Arts in co-production with Proton Cinema
Distribution info:
University of Film and Theatre Arts
So far, Balázs has lived the intellectual dream. He began his career working for the UN and later became the CFO of a prestigious Hungarian NGO. He has two children with his girlfriend, a French UN staff member, and together they live in one of the best neighborhoods in Budapest. And yet, something is missing. Balázs tries everything to distract himself from the fact that his dream job has become a burden, but nothing helps until he changes everything and becomes a bike courier.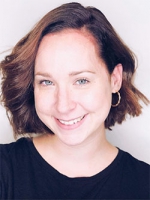 Fanni Hatházi is a director and producer. She graduated with an MA in documentary directing from the University of Film and Theatre Arts. In the last ten years she has worked as a field producer and reporter for various TV news and entertainment programs. She's also researching how the emergence of Netflix and other streaming services has changed the documentary market, as she strongly believes that understanding these new models of distribution is crucial in reaching future audiences.