International Competition
Producer:
Sonia Barrera Gutiérrez
Viviana Gómez Echeverry
Music:
Rodrigo Restrepo Pabón
Carolina Ortiz Cerón
Distribution info:
Filmotor Michaela Čajková michaela@filmotor.com
Camilo is the adopted son of an indigenous couple from the Quillasinga tribe of the Cocha lagoon, in southwest Colombia. As the only black person in his community, he has always felt different. For years he's wondered about his biological parents. During a transcendent experience with Ayahuasca, a sacred remedy for spiritual guidance, Camilo has a vision of his biological mother. Supported by his adoptive father, Camilo embarks on a journey to find his true identity.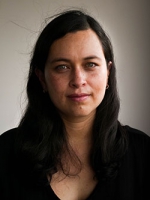 Viviana Gómez Echeverry is a Colombian director and cinematographer. She studied social communication at the Javeriana University in Bogota, and cinematography and scriptwriting in Spain. She wrote and directed the short films Exotic Tropical and 16th Birthday, and co-directed Life is Sacred (with Andreas Dalsgaard). Her first feature film, Keyla (2017), was selected for competition at many festivals, along with the Warsaw Film Festival. Viviana was DoP for several documentaries including The Eternal Night of Twelve Moons, selected at Berlin Film Festival–Generation, and Neonatal, selected at the Chicago International Film Festival.