Producer:
Dagnė Vildžiūnaitė
Elisa Fernanda Pirir
Editor:
Mykolas Žukauskas
Darius Šilėnas
Cinematographer:
Eitvydas Doškus
Audrius Budrys
Adam Khalil
Emilija Škarnulytė
Distribution info:
Just a Moment Dagne Vildziunaite dagne@justamoment.lt
Festivals and Awards:
Visions du Réel International FF 2022
Hot Docs Canadian International Documentary Festival 2022
A python slithers and curls over the abandoned control room of Chernobyl's sister, the Ignalina Nuclear Power Plant. Its radioactive core unleashed a monster that will slither through time for a million years. From Etruscan ruins and sunken cities, to the most modern of underground repositories, director Emilija Škarnulytė follows our attempts to bury the immortal. Addressing the epochal effects of nuclear technology on all levels, Burial follows the cycle of power: an eternal return, another serpent eating its tail.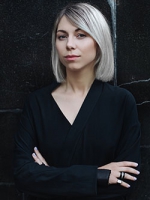 Emilija Škarnulytė (born in Vilnius, Lithuania, in 1987) is an artist and filmmaker. Working between documentary and the imaginary, Škarnulytė makes films and immersive installations exploring deep time and invisible structures: from the cosmic and geologic, to the ecological and political. Winner of the 2019 Future Generation Art Prize, Škarnulytė represented Lithuania at the XXII Triennale di Milano. Recent solo exhibitions include: Tate Modern (2021), Kunsthaus Pasquart (2021), and the National Gallery in Vilnius (2021). Her films are in the IFA, Kadist Foundation and Centre Pompidou collections, and have been screened at the Serpentine Gallery, The Museum of Modern Art in New York, and at numerous film festivals. She is a founder and co-director of Polar Film Lab, and a member of the artistic duo, New Mineral Collective.