International Competition
Producer:
Mike Lerner
Vera Krichevskaya
Editor:
Adam Finch
George Cragg
Vera Krichevskaya
Writer:
Vera Krichevskaya
Paulina Ukrainets
Cinematographer:
Danny Salkhov
Aleksandr Shelaputov
Production info:
Roast Beef Productions, Six Days Film
Festivals and Awards:
IDFA 2021 Official selection
Doc NYC 2021 Official selection
One World 2022 Official Selection
In 2008, Natalia Sindeeva, a successful, wealthy woman, decided to launch an independent TV station in Putin's Russia, not knowing she would end up losing a fortune fighting on the frontlines between truth and propaganda. Sindeeva hires opposition reporters and LGBTQ staff members, and soon her station becomes a lone island of political and sexual freedom. Dozhd TV (also known as TV Rain) was, for a long time, the only independent news station to report on the issues that became taboo in Russian state-run media.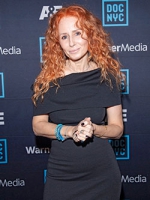 Vera Krichevskaya is the co-founder of Dozhd (TV Rain) Russia, the only independent, private television channel in Russia. She is also an award-winning television director, having worked for NTV and 24DOC as a senior producer and director.