A magunk módjára üvölteni
Hungarian, Slovak, French
Co-producer:
Julianna Ugrin
Zsófia Zurbó
Writer:
Asia Dér
Gábor Czímer
László Jakubecz
Production info:
Peter Kerekes Film, Éclipse Film
Distribution info:
Julianna Ugrin Éclipse Film julianna.ugrin@eclipsefilm.hu
A self-educated, working-class avant-garde poet, Lajos Kassák walked across Europe in torn slippers, published an antimilitarist journal in wartime, fought Italian futurists, and believed in the revolutionary power of art to change the world. What answers does he provide to current social, historical and artistic challenges? What is the something "better, more humane than the old" that today's artists are fighting for? The film looks to contemporary Hungarian and Slovak artists for answers to Kassák's revolutionary and deeply human dilemmas.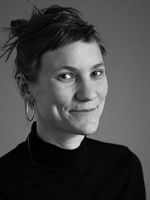 Asia Dér graduated from the DOCnomads MA program as a documentary director, and is pursuing her doctoral degree at the University of Theatre and Film Arts, Budapest. Her graduation film, Letters from Mom, was nominated for best short film at the Hungarian Film Week, and her first feature (co-directed with Sári Haragonics), Her Mothers, was co-produced with HBO and supported by the Sundance Post-production Fund. Her Mothers was shown at more than 30 international film festivals and won several awards, including Best Film award at the Moscow International Documentary Film Festival DOKer, and the CROSSING EUROPE Film Festival in Linz. She has participated at ZagrebDox Pro, CIRCLE Women Doc Accelerator, East Doc Platform, Cannes Docs, and the Docu Rough Cut Boutique. Asia's currently working on her second feature-length documentary, I Did Not Die (Nem haltam meg), and is a member and teacher at the FREEszfe Association, and a presidium member of the Hungarian Documentary Association.