Student and Debut Competition
Writer:
Olena Siyatovska
Simon Mozgovyi
Michelle, a 20-year-old transgender girl, lives in Kyiv, Ukraine, and dreams of becoming a model. Though popular on social media, she is often overcome with loneliness. She returns to her birthplace, a small village in Western Ukraine, to visit the relatives and friends who are the first to accept her.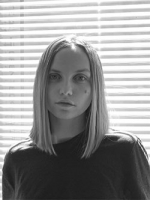 Olena Siyatovska is an artist and emerging filmmaker. She received a MA in English Philology and Art History from the National University of Oles Honchar, in Ukraine, and studied New Media Arts at the University of Fine Arts, Poznan, Poland. Her artistic practice focuses mainly on social relations, human rights, and identity in the digital dimension. She has participated in exhibitions and residencies in Ukraine, Poland, Lithuania, Germany, and the US. Siyatovska has received the Polish Ministry of Culture of Poland, "Gaude Polonia" scholarship twice. She is currently using this to create a documentary about Ukrainian women who have fled the war. I Am Michelle is her directing debut.