Infinity According to Florian
Infinity According to Florian
Editor:
Mykola Bazarkin
Oleksiy Radynski
Distribution info:
Filmdelights Clementine Engler engler@filmdelights.com
Festivals and Awards:
IFFR 2022 Official selection
DocuDays UA 2022 Official selection
On the eve of his 90th birthday, Kyiv-based architect Florian Yuriev gets some bad news. The city has rented out his architectural masterpiece – a flying saucer-shaped avant-garde concert hall – to a real estate developer who wants to turn it into a shopping mall. Florian decides to quit his self-imposed seclusion and disrupt the real estate deal. Following outcry in the media, the building's new owner falsely promises to renovate the building according to Florian's design, but Florian, even at 90, is not ready to give up the fight.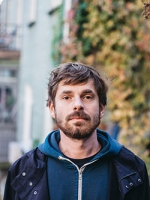 Oleksiy Radynski (Ukraine, 1984) is a filmmaker and writer based in Kyiv. After studying film theory, he took part in several film education experiments, including the Home Workspace Program (Askhal Alwan, Beirut), and Labor in a Single Shot, by Harun Farocki and Antje Ehmann. His award-winning short films have been screened at Oberhausen International Short Film Festival, Docudays IFF, DOK Leipzig, Kurzfilmtage Winterthur, the Institute of Contemporary Arts (London), e-flux (New York), S A V V Y Contemporary (Berlin), and International Studio & Curatorial Program (New York). Infinity According to Florian is his first feature-length film.