Hungarian, English, French, German
Producer:
Péter Kozma
Erika Kapronczai
Distribution info:
Kozma Péter peter.kozma@gmail.com
Kim Corbisier was an enigmatic figure in Budapest. Ten years ago, director Erika Kapronczai approached her to make a short film, but after spending some time with Kim, abandoned this idea to document her struggle with methadone addiction, a project which also went unfinished when Kim committed suicide at the age of 27, leaving behind a small, but powerful oeuvre. Kim left Kapronczai her video camera along with some mesmerizing footage, which became their third and only completed film collaboration.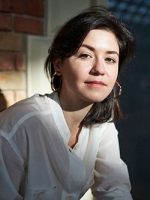 Erika Kapronczai graduated from the University of Pécs with a degree in aesthetics, then from the University of Theatre and Film Arts with a degree in film directing. She is co-founder and creative producer of the international audiovisual dream collection DREAMPIRE. In addition to directing short feature films (Well under the Sun; THREESOME), she also produces documentaries and portraits (CEU20; DREAMPIRE; Sajdik; INFORG PORTRAITS; KIM; F - The Man with the Antenna). She is currently working on her first feature film and is supporting first feature projects as a creative producer.