Little Palestine, Diary of a Siege
Little Palestine, Diary of a Siege
International Competition
Producer:
Mohammad Ali Atassi
Jean-Laurent Csinidis
Cinematographer:
Martyr Jamal Khalifeh
Qusai Abu Qasem
Diaa Yahya
Abdallah Al Khatib
Bassel Abdallah
Ali Taha
Mouayd Zaghmout
Matar Ismail
Hamada Hamid
Majd Almassri
Production info:
Bidayyat for Audiovisual Arts, Films de Force Majeure
Distribution info:
LightDox Nevena Milasinovic nevena@lightdox.com
Festivals and Awards:
Carthage Film Festival 2021 TV5 Award & Tanit d'Or
Torino Film Festival Gandhi's Glasses Award
During the Syrian civil war, Yarmouk, a district in Damascus that is home to thousands of Palestinian refugees, becomes the site of fierce fighting. Little Palestine, Diary of a Siege follows the fate of civilians during the brutal siege imposed by the Syrian regime in the aftermath of these battles. Yarmouk-born filmmaker Abdallah Al-Khatib composes a love song to a place that resists the atrocities of war with dignity.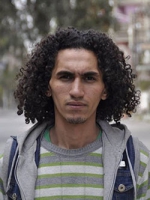 Abdallah Al-Khatib was born in 1989, in Yarmouk, and studied sociology at the University of Damascus. Prior to the revolution, he was a coordinator of activities and volunteers for the UN. Along with several friends, he created the humanitarian aid association Wataad, which carried out dozens of projects in Syria, particularly in Yarmouk. He participated in several documentary films related to life at the Yarmouk camp, notably as a cameraman for 194. Us, Children of the Camp, which premiered at Visions du Réel in 2017. The German magazine Peace Green identified him as a 2014 "peacemaker". He received the Per Anger Human Rights Award in Sweden, in 2016. Abdallah currently lives in Germany, where he recently received refugee status.