Lithuania, France, Germany
In Memoriam: Mantas Kvedaravičius
Producer:
Uljana Kim
Mantas Kvedaravičius
Nadia Turincev
Omar El Kadi
Thanassis Karathanos
Martin Hampel
Sound:
Rana Eid
Lama Sawaya
Sherif Allam
Rob Walker
Production info:
Studio Uljana Kim, Extimacy Films, Easy Riders Films, Twenty Twenty Vision
Distribution info:
The Match Factory Valentina Bronzini valentina.bronzini@matchfactory.de
Festivals and Awards:
European Film Awards 2022 Best Documentary Nominee
Mantas Kvedaravičius returned to Mariupol in 2022, straight to the heart of the war, to be with the people he had met while filming in 2015. Kvedaravičius, who held a PhD in anthropology, wanted his film to testify to the events of war, far from any media and political agitation. He was captured and killed at the end of March 2022. With great force and sensitivity, Mariupolis 2 depicts, through images of both tragedy and hope, how life goes on during war. The film was finished by his partner, Hanna Bilobrova, in cooperation with his producers and collaborators, who put their all into continuing his work, and transmitting his vision and films.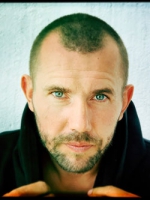 Mantas Kvedaravičius (1976–2022) was a Lithuanian-born filmmaker with a degree in social anthropology from Cambridge University. His first documentary film, Barzakh, was selected in numerous festivals and won several awards, including the Amnesty International Prize and the Ecumenical Jury Prize at the Berlinale in 2011. His two, subsequent films, Mariupolis (2016) and Parthenon (2019), were selected for the Berlinale and the Venice International Critics' Week, respectively. Mantas Kvedaravičius was killed by Russian Forces in late March 2022, in Mariupol, while documenting Russia's invasion of Ukrainian territory.