Producer:
Jamila Wignot
Sara Archambault
Production info:
Magnolia Pictures, Field of Vision
Distribution info:
Dogwoof Luke Brawley luke@dogwoof.com https://dogwoof.com
Festivals and Awards:
Sundance 2022
True / False 2022
CPH:DOX 2022 Next:Wave
Welcome to Riotsville, USA, a turning point in American history, where the protest movements of the late 1960's meet increasingly militarized police departments. Based on unearthed military training footage of Army-built towns, or "Riotsvilles," where the military and police were trained to respond to civil disorder, director Sierra Pettengill reconstructs the formation of a national consciousness obsessed with maintaining law and order by any means necessary. Riotsville, USA focuses on American institutional control; how it's been constructed and how it rumbles on.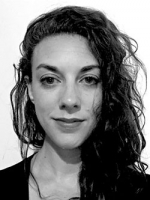 Sierra Pettengill's films have played at Sundance, Locarno, True/False, on PBS, CNN, Netflix, and in festivals around the world. She produced the Oscar-nominated Cutie and the Boxer, and in 2018 was a Sundance Institute Art of Nonfiction Fellow. Pettengill is an archivist for many artists, including Jim Jarmusch and Adam Pendleton. She is also a board member of Screen Slate.