The Killing of a Journalist
The Killing of a Journalist
Denmark, Czech Republic, USA
International Competition
Production info:
Final Cut for Real, OCCRP
Distribution info:
Cinephil Shoshi Korman shoshi@cinephil.com
Festivals and Awards:
Hot Docs 2022 International Competition
Investigative journalist Ján Kuciak and his fiancée were brutally murdered in 2018. Their deaths inspired the biggest protests in Slovakia since the fall of communism. The investigation into their deaths takes an unexpected turn when a secret file is leaked to the murdered journalist's colleagues. It includes messages from the alleged mastermind of the assassination, a businessman closely connected to the country's ruling party. Trawling through the encrypted messages, journalists discover that their country has been taken over by corrupt oligarchs, judges, and law enforcement officials. A reckoning awaits.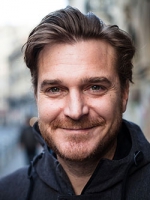 Matt Sarnecki is a journalist, producer, and film director at the Organized Crime and Corruption Reporting Project. He earned a BA in political science and history at Columbia University. He spent two years as a Peace Corps volunteer in Romania before moving to Prague, Czech Republic, where he held a Fulbright Teaching Assistantship at the Film and TV School of the Academy of Performing Arts. In 2011 he moved to San Francisco, and earned a master's degree in journalism at the University of California, Berkeley. Since 2013 he has lived in Bucharest, Romania. His documentary Killing Pavel, about the murder of investigative journalist Pavel Sheremet, won the Investigative Reporters and Editors Medal in 2017, and the DIG Award (Italy) in 2018.