The Revolution Devours Its Children!
Die Revolution frisst ihre Kinder!
Student and Debut Competition
Music:
Smockey
Komi Mizrajim Togbonou
Matthias Grübel
Distribution info:
sixpackfilm Jonida Laçi office@sixpackfilm.com
This mockumentary-style film blends documentary with fiction while following a theater director traveling to Burkina Faso with her ensemble. When they get caught in a revolution, the director plunges into protests against the autocratic long-term president and falls into the delusion of staging the political turmoil herself.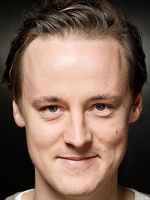 Jan-Christoph Gockel, born in 1982, grew up near Kaiserslautern. He studied theatre, film, and media studies in Frankfurt/Main, and directing at the Ernst Busch Academy of Dramatic Arts in Berlin. He has worked as a freelance director since 2007. His productions usually focus on political issues. Since 2013, Gockel has been intensely engaged with Africa, and the relationship between Europe and former colonies, the effects of colonialism, and economic dependency have become the themes of Congo-Müller, Heart of Darkness, The Mission: Danton's Death and Coltan Fever. His works have been nominated for the Nestroy Theatre Award (2010, 2016, 2017), which he won in 2017 for The Mission: Danton's Death. The Revolution Devours Its Children! is his first feature-length film.