Three Minutes – A Lengthening
Three Minutes – A Lengthening
The Netherlands, United Kingdom
English, Yiddish, Polish, German
Distribution info:
Autlook Stephanie Fuchs stephanie@autlookfilms.com https://www.autlookfilms.com/
Festivals and Awards:
Atlanta Jewish Film Festival 2022 Jury Prize
Dublin International Film Festival 2022 Best Documentary
Brussels International Film Festival 2022 Directors' Week Award Nominee
Narrated by Helena Bonham Carter, Three Minutes - A Lengthening presents a home movie shot by David Kurtz, in a Jewish town in Poland, in 1938, and tries to postpone its ending. The film is a haunting essay about history and memory; as long as we watch, history goes on. The three minutes of footage, mostly in color, are the only moving images left of the Jewish inhabitants of Nasielsk before the Holocaust. These precious minutes are examined, moment-by-moment, to reveal the human stories hidden in the celluloid. The voices of Glenn Kurtz, David Kurtz's grandson, and Maurice Chandler, who appears in the footage as a young boy, enhance the images.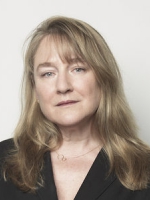 Bianca Stigter is a historian and cultural critic. She made the short film essays Three Minutes - Thirteen Minutes - Thirty Minutes (2014) and I Kiss This Letter - Farewell Letters from Amsterdammers (2018). She is associate producer of Steve McQueen's feature films 12 Years a Slave and Widows. In 2019 she published the book "Atlas of an Occupied City: Amsterdam 1940-1945".