Turn Your Body to the Sun
Turn Your Body to the Sun
Distribution info:
Taskovski Films festivals@taskovskifilms.com https://www.taskovskifilms.com
Festivals and Awards:
Amsterdam International Documentary Film Festival 2021 Best Feature-Length Documentary Nominee
Thessaloniki Documentary Film Festival 2022 Golden Alexander Nominee
The intimate story of Sandar, a Soviet Tatar soldier, narrated by his daughter, Sana. Captured as a prisoner of war, Sandar is sent to a GULAG labor camp for allegedly committing treason. There, love for an unknown girl becomes his salvation. Sixty years later, through his diaries, various personal and public archives, and registries, Sana tries to understand how he became the man she knew as a child. The filmmaker accompanies Sana on her journey as she excavates film archives to find traces of millions of Soviet soldiers who were lost in the war.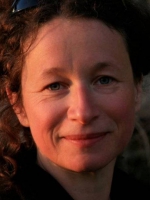 In her 25 years of filmmaking Aliona van der Horst has received multiple awards for her films. Her most recent film Turn Your Body to the Sun (2021) deals with history and memory through the story of a daughter searching for her fathers' past and is hailed for its artistic use of archival footage. Love is Potatoes (2017), is a first-person doc that deals with post-memory in contemporary Russia. Two other films, Water Children and After the Spring of '68 are first-person docs. Her films revolve around the question of how ordinary people's lives are shaped by big historical events. Retrospectives of her work were held in Barcelona, Kiev and Belgrade. She is a member of the Documentary branch of AMPAS and the European Film Academy. She is one of the founders of the collectively owned Dutch film production company DOCMAKERS.