Producer:
Frederik Nicolai
Karl Emil Rikardsen
Ljubo Zdjelarević
Lukas Trimonis
Writer:
Frederik Nicolai
Georg Götmark
John Erling Utsi
Production info:
Off World, Relation04 Media, Sami Kompania, Kinoteka, In Script
Distribution info:
3Box Media Valentín Romero valentin@3boxmedia.com www.3boxmedia.com
Festivals and Awards:
Tromsø International Film Festival 2022 Tromsø Palm Winner
In the northernmost parts of Sweden and Norway, there seems to be a perpetual conflict over land and borders. Simon and Beatrice Marainen's family are part of an indigenous, semi-nomadic Sami community of reindeer herders who have traditionally moved freely across northern Scandinavia, following the natural movement of their herds. But today, nationalism, bureaucracy, and politics are a threat to their traditional way of life.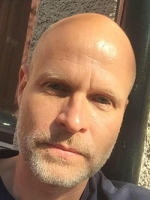 Georg Götmark has a degree in film and cultural studies from Stockholm University and the Universidad Pompeu Fabra in Barcelona. He has also completed a post-graduate course at the Royal Academy of Arts in Stockholm. Georg is currently working as a producer and director at Filmfront Media AB, which he co-founded. He has worked with documentaries and in TV since 2001. He has worked on a number of international documentary projects, such as The Last Lacandones, a film about Mayan Indians, shot in Mexico; Transit Tanger, about Moroccans dreaming of a new life in Europe; and Citizen Oketch, about a family living in the Kibera slum outside of Nairobi. His first feature creative documentary, Bellum – The Daemon of War (2021), was about AI, robotics, and ethics. Georg has traveled extensively producing a number of TV series and reports for Swedish television, and educational films for universities, organizations and companies.
John Erling Utsi is a freelance Sami filmmaker and journalist with an extensive career at SVT-Sápmi.