Portuguese, Tupi-Kawahiva
Producer:
Darren Aronofsky
Will N. Miller
Gabriel Uchida
Lizzie Gillett
Sigrid Jonsson Dyekjær
Will Miller
Distribution info:
Dogwoof Luke Brawley luke@dogwoof.com https://dogwoof.com
Festivals and Awards:
CPH:DOX 2022 F:ACT Award Nominee
The indigenous Uru-eu-wau-wau people live in the rapidly disappearing Brazilian rainforest, where logging and farming are encroaching on the land. With President Bolsonaro supporting deforestation, the tribe has no support from the government. The film takes audiences deep into the Uru-eu-wau-wau community, and provides unprecedented access to the farmers and settlers illegally burning and clearing protected Indigenous land. Partially shot by the Uru-eu-wau-wau people, the film relies on vérité footage captured over three years as the community risks their lives to set up their own media team to expose their truth.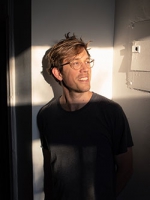 Alex Pritz is a director and cinematographer whose work focuses on humanity's relationship with the natural world. His process relies on a participatory filmmaking model, in which everyone is encouraged to pick up a camera. The Territory is his first feature film.