Student and Debut Competition
Distribution info:
Costanza Film Distribution Asaf Yecheskel asaf@costanza-films.com
Yael, a woman with a mental disability, and Danna, a student, are forced to confront difficulties in their romantic lives. Ultimately, they discover that their bond gives them all of the support they need.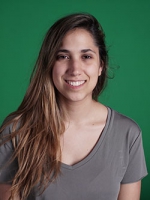 Danna Levy was born in 1991, and was raised in Ramat Gan. She graduated with a BA in film and scriptwriting from Sapir College. She resided and volunteered in Sderot throughout her studies. These experiences taught her about the city and its inhabitants. Her acquaintance with Yael provided the urge to document, which, in an almost natural manner, altered their relationship into a documentary film. Unwell Mind is her graduation film.